The Newcomer
9th April 1948
Page 36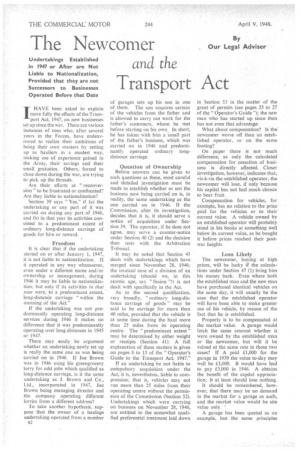 Page 37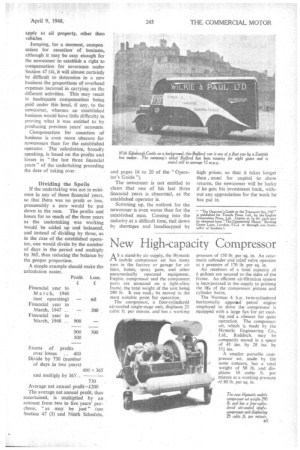 Page 36, 9th April 1948 —
The Newcomer
Close
and the
Transport Act
By Our Legal Adviser IHAVE been asked to explain more fully the effects of the Transport Act, 1947, on new businesses set up since the war. There are various instances of men who, after several years in the Forces, have endeavoured to realize their ambitions of being their own masters by setting up as hauliers in a modest way, making use of experience gained in the Army, their savings and their small gratuities. Others; forced to close down during the war, are trying to pick up the threads.
Are their efforts at " reconversion " to be frustrated or confiscated? Are they liable to nationalization?
Section 39 says "Yes," if (a) the undertaking or any part of it was carried on during any part of 1946, and (b) in that year its activities consisted to a predominant extent of ordinary long-distance carriage of goods for hire or reward.
Freedom
It is clear that if the undertaking started on or after January 1, 1947, it is not liable to nationalization. If it operated in any way whatsoever, even under a different name and/or ownership or management, during 1946 it may be liable to nationalization; but only if its activities in that . year were, to a predominant extent, long-distanCe carriage "within the meaning of the Act."
If the undertaking was not predominantly operating long-distance services during 1946 it makes no difference that it was predominantly operating over long distances in 1945 or 1947.
There may easily be argument whether an undertaking newly set up is really the same one as was being carried on in 1946. If Joe Brown was in 1946 using his greengrocery lorry for odd jobs which qualified as long-distance carriage, is it the same undertaking as J. Brown and Co., Ltd., incorporated in 1947, Joe Brown being managing director and the company operating different lorries from a different address?
To take another hypothesis, suppose that the owner of a haulage undertaking operated from a number B2 of garages sets up his son in one of them. The son acquires certain of the vehicles from the father and is allowed to carry out work for the father's customers, whom he met before starting on his own In short, he has taken with him a small part of the father's business, which was carried on in 1946 and predominantly operated ordinary longdistance carriage.
Question of Ownership
Before answers can be given to such questions as these, most careful and 'detailed investigation must be made to establish whether or not the business now being carried on is, in reality, the same undertaking as the one carried on in 1946. If the Commission, after its investigation, decides that it is, it should serve a notice of acquisition under Section 39. The operator, if he does not agree, may serve a counter-notice under Section 40 (2) and the decision then rests with the Arbitration Tribunal.
It may be noted that Section 43 deals with undertakings which have merged since November 28, 1946; the unusual case of a division of an undertaking (should we, in this atomic age, say "fission "?) is not dealt with specifically in the Act.
As to the second qualification, very broadly, "ordinary tong-distance carriage of goods" may be said to be carriage for more than 40 miles, provided that the vehicle is at some time during the haul more than 25 miles from its operating centre. The "predominant extent" may be determined by either weight or receipts (Section 41). A full explanation of these matters is given on pages 8 to 13 of the "Operator's Guide to the Transport Act, 1947."
If an undertaking be not liable to coinpulsory acquisition under the Act, it is, nevertheless, liable to compression; that is, vehicles may not run more than 25 miles from their operating centre without the permission of the Commission (Section 52). Undertakings which were carrying on business on November 28, 1946, are entitled to the somewhat qualified preferential treatment laid down in Section 53 in the matter of the grant of permits (see pages 25 to 27 of the "Operator's Guide "); the new man who has started up since then has not even that advantage. _ What about compensation? Is the newcomer worse off than an established operator, or on the same footing?
On paper there is not much difference, as only the •calculated compensation for cessation of business is directly affected. Closer investigation, however, indicates that, vis-à-vis the established operator, the newcomer wilt lose, if only because his capital has not had much chance to bear fruit.
Compensation for vehicles, for example, has no relation to the puce paid for the vehicles or to their current value. A vehicle owned by an established operator will probably stand in his books at something well below its current value, as he bought it before prices reached their postwar heights
,Loss Likely
The newcomer, buying at high prices, will be lucky if the calculations under Section 47 (1) bring him his money back. Even where both the established man and the new man have purchased identical vehicles on the same day, it will usually be the case that the established operator will have been able to make greater use of his vehicle, by reason of the fact that he is established.
Property is to be compensated at the market value. A garage would fetch the same amount whether it were owned by the established man or the newcomer, but will it be valued at the same rate in those two cases? If A paid £1,000 for the garage in 1939 the value to-day may well be £3,000. B would have had to pay £3,000 in 1946. A obtains the benefit of the capital appreciation; B at least should lose nothing.
It should be remembered, however, that there may be no demand in the market for a garage as such, and the market value would be site value only. "
A garage has been quoted as an example, but the same principles apply to all property, other than vehicles.
Jumping, for a moment, compen sation for cessation of business, although it may be easy enough for the newcomer to establish a right to compensation for severance under Section 47 (4), it will almost certainly be difficult to determine in a new business the proportions of overhead expenses incurred in carrying on the different activities. This may result in inadequate compensation being paid under this head, if any, to the newcomer, whereas an established business would have little difficulty in proving what it was entitled to by producing previous years' accounts Compensation for cessation of business is even more obscure for newcomers than for the established operator. The calculation, broadly speaking, is based on the profits and losses in "the last three financial years" of the undertaking preceding the date of taking over.
Dividing the Spoils If the undertaking was not in existence in any of those financial years, so that there was no profit or loss, presumably a zero would be put down in the sum. The profits and losses for so much of the three years as• the undertaking was working Would be added up and balanced, and instead of dividing by three, as in the case of the established operator, one would divide by the number of days in the period and multiply by 365, thus reducing the balance by the proper proportion.
A simple example should make the calculation easier.
Profit. Loss.
Financial year to March, 1946 (not operating) nil Financial year to March, 1947 .. 500 Financial year to March, 1948 .. 900 900 500 500 Excess of profits over losses .. 400 Divide by730 (number of days in two years) 400 X365 and multiply by 365.. 730 Average net annual profit=£200 The average net annual profit, thus ascertained, is multiplied by an amount from two to five years' purchase, "as may be just" (see Section 47 (3) and Ninth Schedule, and pages 16 to 20 of the "Operator's Guide ").
The newcomer is not entitled to claim that one of his last three financial years is abnormal, as the established operator is.
Summing up, the outlook for the newcomer is even worse than for the established man. Coming into the industry at a difficult time, tied down by shortages and handicapped by high prices, so that it takes longer than • usual for capital to show returns, the newcomer will be lucky if he gets his investment back, without any appreciation for the work he has put in.