Workers Lead Anti-strike Move R FACTICN of the Transport and General
9th April 1948
Page 33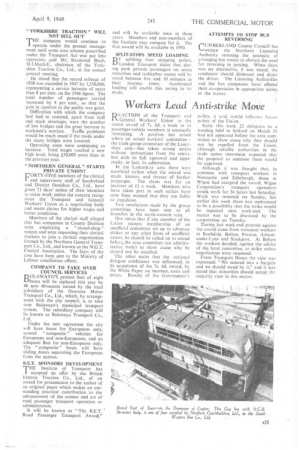 Page 33, 9th April 1948 —
Workers Lead Anti-strike Move R FACTICN of the Transport and General
Close
Workers' Union to the recent award of 7s. 6d. a week to its passenger-vehicle members is unusually interesting. A position has arisen where an actual workers' committee-the trade group committee of the Lancashire area-7-has taken strong action without instructions from the centre. but with its full approval and apparently, in fact, its admiration.
In the Lancashire area there were unofficial strikes when the award was made known, and threats of further stoppages. The claim was for an increase of El a week. Members who have taken part in such strikes have now been warned that they are liable to expulsion.
Two resolutions made by the group committee have been sent to all branches in the north-western area.
One states that if any member of the Union accepts membership of an unofficial committee set up to advocate strikes or any other form,of unofficial action, he should be called on to attend before. the area committee (an administrative body) to show cause why he should not be expelled.
The other states that the national delegate conference was influenced, in its acceptance of the 7s, 6d. award, by the White Paper on incomes, costs and prices. Results of the Government's policy, it said, would influence future policy of the Union.
Early this week 22 delegates to a fleeting held in Salford on March 31 had not appeared before the area committee to show cause why they should not be expelled front the Union, although reliable authorities in the rade union movement expected that the proposal to summon them would be approved.
Although it was thought that, in common with transport workers in Newcastle and Edinburgh, those at Wigan had accepted the award, Wigan Corporation's transport operatives struck work for 24 hours last Saturday. Work was resumed on Sunday, but earlier this week there was understood to be a possibility that the strike would he repeated next week-end. The matter was to he discussed by the corporation on Tuesday.
During last week-end protests against the award came from transport workers in Rochdale, Bolton, Preston, Ashtonunder-Lyne and Stockport. At Bolton the workers decided, against the advice of the, local committee, to strike unless negotiations were reopened, From Transport House the view was expressed: " We entered into a bargain and we should stand by it," and it was stated that minorities should accept the majority view in this matter.