A.E.C.-CROSSLE Y MERGER AGREED TUTORE than 90 per cent, of
9th April 1948
Page 28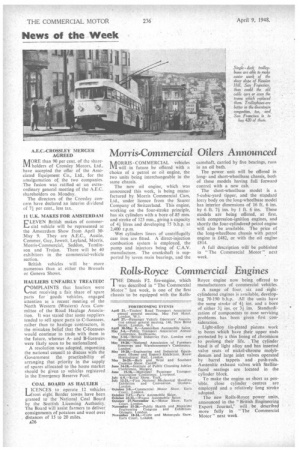 Page 28, 9th April 1948 —
A.E.C.-CROSSLE Y MERGER AGREED TUTORE than 90 per cent, of
Close
the shareal holders of Crossley Motors, Ltd., have accepted the offer of the Assodated Equipment Co., Ltd., for the amalgamation of the two companies. The fusion was ratified -at an extraordinary general meeting of the A.E.C. shareholders on Monday.
The directors of the Crossley concern have declared an interim dividend of 71. per cent., less tax.
11 U.K. MAKES FOR AMSTERDAM ELEVEN British makes of commercial vehicle will be represented at the Amsterdam Show from April 30May 9. They are A.E.C., Austin. Commer, Guy, Jowett, Leyland, Morris, Morris-Commercial, Seddon, Tomlinson and Trojan. There will be 40 exhibitors in the commercial-vehicle section.
British vehicles will be more . numerous than at either the Brussels or Geneva Shows.
HAULIERS UNFAIRLY TREATED?
COMPLAINTS that hauliers were not receiving a fair share of spare parts for goods vehicles, engaged attention at a recent meeting of the North Western (Western) Area Committee of the Road Haulage Association. It was stated that some suppliers tended to sell spare parts to C-licensees, rather than to haulage contractors, in the mistaken belief that the C-licensees would continue to trade with them in the future, whereas Aand B-licensees were likely soon to be nationalized.
A resolution was adopted, requesting the national council to discuss with the Government the practicability of arranging that priority in the supply of spares allocated to the home market should be given to vehicles registered in the Emergency Reserve Pool.
COAL BOARD AS HAULIER
L10ENGES to operate 12 vehicles from eight Border towns have been granted to the National Coal Board by the Scottish Licensing Authority. The Board will assist farmers to deliver consignments of potatoes and wool over distances of 15 to 20 miles.
A26