After 499 Issues.
8th October 1914
Page 4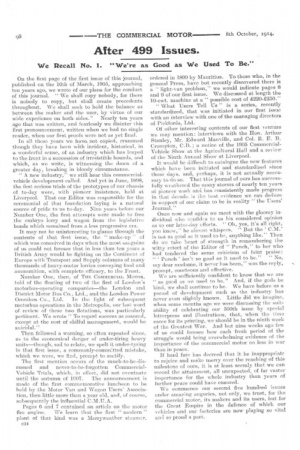 Page 4, 8th October 1914 —
After 499 Issues.
Close
We Recall No. 1.
"We're as Good as We Used To Be."
On the first page of the first issue of this journal, published on the 16th of March, 1905, approaching ten years ago, we wrote of our plans for the conduct of this journal. " We shall copy nobody, for there is nobody to copy, but shall create precedents throughout. We shall seek to hold the balance as between the maker and the user, by virtue of our wide experience on both sides." Nearly ten years ago that was written, and fearlessly we disinter this first pronouncement, written when we had no single reader, when our first proofs were not as yet final.
In all those years we have, not copied, crammed though they have been with incident, historical, in a wonderful sense, of an industry which has leaped to the front in a succession of irresistible bounds, and which, as we write, is witnessing the dawn of a greater day, breaking in bloody circumstance.
" A new industry," we still hear this commercialvehicle development called. And yet in June, 1808, the first serious trials of the prototypes of our chassis of to-day were, with pioneer insistence, held at Liverpool. That our Editor was responsible for the ceremonial of that foundation laying is a natural source of pride to us to-day. Nine years before our Number One, the first attempts were made to free the embryo lorry and wagon from the legislative bonds which remained from a less progressive era.
It may not be uninteresting to glance through the contents of that first issue, the " make-up of which was conceived in days when the most sanguine of us could not foresee that in less than ten years a British Army would be fighting on the Continent of Europe with Transport and Supply columns of many thousands of heavy-motor lorries conveying food and ammunition, with complete efficacy, to the Front.
Number One, then, of Tn.: COMMERCIAL MOTOR, told of the floating of two of the first of London's motorbus-operating companies—the London and District Motor Bus Co., Ltd., and the London Power Omnibus Co., Ltd. In the light of subsequent motorbus operations in the Metropolis, our last word of review of these two flotations, was particularly pertinent. We wrote " To regawl success as assured, except at the cost of skilful management, would be suicidal."
Then followed a warning, so often repeated since, as to the economical danger of under-tiring heavy unite—though, sad to relate, we spelt it under-tyring in that first issue, a commonly-committed mistake, which we were, we find, prompt to rectify.
The first mention occurs of the much-to-be-discussed and never-to-be-forgotten Commercial Vehicle Trials, which, in effect, did not eventuate until the autumn of 1907. The announcement is made of the first commemorative luncheon to be held by the Motor Van and Wagon Users' Association, then little more than a year old, and, of course, subsequently the influential C.M.U.A.
Pages 6 and 7 contained an article on the motor fire engine. We learn that the first " modern " plant of that kind was a Merryweather steamer, c14 ordered in 1899 by Mauritius. To those who, in the general Press, have but recently discovered there is a " light-van problem," we would indicate pages 8 and 0 of our first issue. We discussed at length the 10-cwt. machine at a" possible cost of t2204250." " What Users Tell Us " is a series, recently standardized, that was initiated in our first issue with an interview with one of the managing directors of Pickfords, Ltd.
Of other interesting contents of our first venture we may mention: interviews with the Hon. Arthur Stanley, Mr. Edward Manville, and Col. R. E. B. Crompton, C.B. ; a notice of the 1905 CommercialVehicle Show at the Agricultural Hall and a review of the Ninth Annual Show at Liverpool.
It would be difficult to catalogue the new features which havebeen initiated and standardized since those days, and, perhaps, it is not actually necessary to do so. That this journal of ours has successfully weathered the many storms of nearly ten years of pioneer \vork and has consistently made progress in that decade is the best evidence we can deduce in support of our claim to be in reality " the Users' Journal."
Once now and again we meet with the gloomy in dividual NV110 ■7/241f1d,'S to us his considered 'opinion as to our late-e-day efforts. " Oh, yes, it's all.right, you know,' he almost whispers. " But the C.M.' is not as good as it used to be, anything like." Then do we take heart of strength in remembering the witty retort of the Editor of " Punch," to her who had tendered the some criticism of faint praise: Punch ' isn't so good as it used to be." " No, my dear madame, it never has been," was the reply, prompt, courteous and effective. e are sufficiently confident to know that. we are " as good as we used to be." And, if the gods be kind, we shall continue to be. We have before us a period of development such as the iedustry has never even slightly known. Little did we imagine, when some months -ago we were discussing the suitability of celebrating our 500th issue by special letterpress and illustrations, that, when the time came for its printing, we should be in the ninth week of the Greatest War. And but nine weeks ago few of us could foresee how each fresh period of the struggle would bring overwhelming evidence Of the importance of the commercial motor no less in war than in peace. If hard fate has decreed that, it be inappropriate to rejoice and make merry over the reaching of this milestone of ours, it is at least seemly that we can record the attainment, all unexpected, of far vaster importance for the whole industry than years of further peace could have ensured. We commence our second five hundred issues under amazing auguries, not only, we trust, for the commercial motor, its makers and its users, hut for the Great Empire in the defence of which our vehicles and our factories are now playing so vital and so proud a part.