One Hears— —The following Rumours, of which the Press Bureau
8th October 1914
Page 3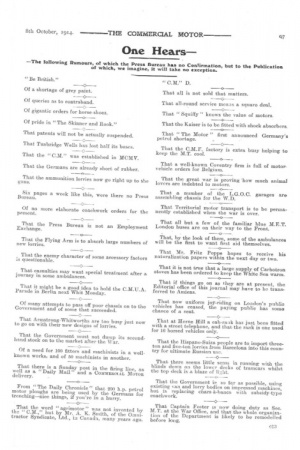 Page 3, 8th October 1914 —
One Hears— —The following Rumours, of which the Press Bureau
Close
has no Confirmation, but to the Publication of which, we imagine, it will take no exception.
"Be British."
Of a shortage of grey paint.
Of queries as to contraband.
Of gigantic orders for horse-shoes.
Of pride in "The Skinner and Rook."
That patents will not be actually suspended.
That Tunbridge Wells has lost half its buses.
That the " C.M." was established in MCMV.
That the Germans are already short of rubber.
That the ammunition lorries now go right up to the guns.
Six pages a week like this, were there no Press Bureau.
Of no more elaborate coachwork orders for the present.
That the Press Bureau is not an Employment Exchange.
That the Flying Arm is to absorb large numbers of new lorries.
That the enemy character of some accessory factors :s questionable.
That casualties may want special treatment after a journey in some ambulances.
That it might be a good idea to hold the C.M.I.T.A. Parade in Berlin next Whit Monday.
Of many attempts to pass off poor chassis on to the Government and of some that succeeded.
That Armstrong-Whitworths are too busy just now to go on with their new designs of lorries.
That the Government must not dump its secondhand stock on to the market after the War.
Of a need for 100 fitters and machinists in a well known works, and of 50 machinists in another.
That there is a Sunday post in the firing line, as well as a, "Daily Mail" and a, CommEactar, MOTOR. delivery.
From "The Daily Chronicle" that 200 h.p. petrol motor ploughs are being used by the Germans for trenching—nice things, if you're in a hurry.
That the word " agrimotor " was not invented by the " C.M.," but by Mr, A. K. Smith, of the Omnitractor Syndicate, Ltd., in Canada, many years ago. " C.M." D.
That all is not sold that matters.
That all-round service meaas a square deal.
That " Squiffy " knows the value of motors.
That the Kaiser is to be fitted with shock absorber& That "The Motor" first announced Germany's petrol shortage.
That the C.M.F. factory is extra busy helping to keep the M.T. cool.
That a well-known Coventry firm is full of motor. vehicle orders for Belgium.
That the great war is proving 'how much animal lovers are indebted to motors.
That a number of the L.G.O.C. garages are assembling chassis for the W.D.
That Territorial motor transport is to be permanently established when the war is over.
That all but a few of the familiar blue M.E.T. London buses are on their way to the Front.
That, by the look of them, some of the ambulances will be the first to want first aid themselves.
That Mr. Fritz Poppe hopes to receive his naturalization papers within the next day or two.
That it is not true that a large supply of Carbotron stoves has been ordered to keep the White Sea warm.
That if things go on as they are at present, the Editorial office of this journal may have to be transferred to Amiens.
That now uniform joY'-riding on London's public vehicles has ceased, the paying public has some chance of a seat.
That at Herne Hill a cab-raak has just been fitted with a street telephone, and that the rank is one used for 16 horsed vehicles only.
That the Hispano-Suiza people are to import threeton and five-ton lorries from Barcelona into this country for ultimate Russian use.
Thatthere seems little sensE in running with the blinds down on the lower decks el! tramcars whilst the top deck is a blaze of That the Government in so far as possible, using existing van and lorry bodies on impressed machines, but is replacing chars-à-banes, with subsidy-type coachwork.
That Captain Foster is " now doing duty as Sec. M.T. at the War Office, and that tho whole organization of the Department is likely to be remodelled before kaag.