6. Drivers &Mechanics
8th October 1914
Page 19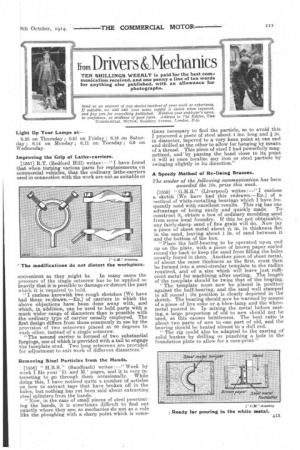 Page 19, 8th October 1914 —
6. Drivers &Mechanics
Close
TEN SHILLINGS WEEKLY is paid for the best communication received, and one penny a line of ten words for anything else published, with an allowance for photographs.
Light lip Your Lamps at 6.23 on Thursday ; 6.21 on Friday ; 6.18 on Saturday; 6.14 on Monday ; 6.11 on Tuesday ; 6.9 on Wednesday.
Improving the Grip of Lathe-carriers.
[1557] R.T. (Bedford Hill) writes :—" I have found that when turning various parts for replacements en commercial vehicles, that the ordinary lathe-carriers used in connection with the work are not as suitable or
convenient as they might be In many cases the pressure of the single setscrew has to be applied so heavily that it is possible to damage or distort the part which it is required to hold.
" I enclose herewith two rough sketches [We have had these re-drawn.—En.] of carriers in which the above objections have been done away with, and which, in addition, can be used to hold parts with a much wider range of diameters than is possible with the ordinary type of carrier usually employed. The first design differs from those commonly in use by the provision of two setscrews placed at 90 degrees to each other, instead of a single setscrew. "The second carrier is formed of two substantial forgings, one of which is provided with a tail to engage the faceplate stud. Two long setscrews are provided for adjustment to suit work of different diameters."
Removing Steel Particles from the Hands.
[1558] " H.B.S." (Sandbach) writes :—" Week by week I file your 'D. and M.' pages, and it is very interesting to go through them occasionally. While doing this, I have noticed quite a number of articles on how to extract taps that have broken off in the holes, but nothiiag has yet been said about extracting steel splinters from the hands. "Now, in the case of small pieces of steel penetrating the hands, it is sometimes difficult to find out exactly where they are, as mechanics do not as a rule like the ploughing with a sharp point which is some times necessary to find the particle, so to avoid this. I procured a piece of steel about 4 ins, long and i in. in diameter, tapered to a very keen point at one end and drilled at the other to allow for hanging by means of a thread. This piece of steel I had powerfully magnetized, and' by passing the hand close to its point. it will at once localize any iron or steel particle by swinging slightly in its direction."
A Speedy Method of Re-lining Brasses.
The sender of the following communication has been awarded the 10s. prize this week.
[1559] " G.H.R." (Liverpool) writes :—" I enclose. a sketch [We have had this redrawn.—En.] of a method of white-metalling bearings which I have frequently used with excellent results. This rig has one advantage of being easily and quickly made. To, construct it, obtain a box of ordinary moulding sand from some local foundry. If this be not obtainable,. any fairly-damp sand of fine grain will do. Now lay
a piece of sheet metal about in. in thickness flat in the sand, leaving about 1 in. of sand between it and the bottom of the box.
"Place the half-bearing to be operated upon end up on the plate with a piece of brown paper curled round the back plate, keep the sand from filling the holes usually found in them. Another piece of sheet metal, of about the same thickness as the first, must then be formed into a semi-circular template to the radius required, and of a size which willleave just sufficient metal for machining after casting. The length of the template should be twice that of the bearing.
"The template must now be placed in position against the half-bearing, and the sand well stamped in all round ; its position is clearly depicted in the sketch. The bearing should now be warmed by means of a piece of live coke or a blow-lamp and the whitemetal poured in. In mixing the metal before casting, a large proportion of old to new should not be used, as this causes brittleness. The best ratio is about two parts of new to one part of old, and the bearing should be heated almost to a dull red. "The rig could also be .adapted to the casting of solid bushes by drilling or punching a hole in thefoundation plate to allow for a core-print."