THE FAMOUS "SKINNER AND ROOK."
8th October 1914
Page 16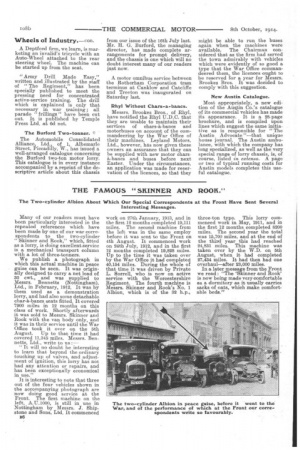 Page 16, 8th October 1914 —
THE FAMOUS "SKINNER AND ROOK."
Close
Keywords :
The Two-cylinder Albion About Which Our Special Correspondents at the Front Have Sent Several Interesting Messages.
Many of our readers must have been particularly interested in the repeated references which have been made by one of our war correspondents to the two-cylinder "Skinner and Rook," which, fitted as a lorry, is doing excellent service is a mechanical transport column with a lot of three-tonners.
We publish a photograph in which this actual machine in peace guise can be seen. It was originally designed to carry a net load of 30 cwt., and was supplied to Messrs. Bennetts (Nottingham), Ltd., in February, 1912. It washy them used as a demonstration lorry, and had also some detachable char-aabancs seats fitted. It covered 7900 miles in 12 months on this class of work. Shortly afterwards it was sold to Messrs. Skinner and Rook with the van body only, and it was in their service until the War Offic,e took it over on the 5th August. Up to that time it had covered 11,345 miles. Messrs. Bennetts, Ltd., write to us :— " It will no doubt be interesting to learn that beyond the ordinary touching up of valves, and adjustment of ignition, this lorry has not had any attention or repairs, and has been exceptionally economical in use."
It is interesting to note that three out of the four vehicles shown in the accompanying photograph are now doing good service at the Front. The first machine on the left, A.U.1000, is still in use in Nottingham by Messrs. J. Shipstone and Sons, Ltd. It commenced
116 work on 27th January, 1913, and in the first 12 months completed 19,111 miles. The second machine from the left was in the same employ before it was sent to the Front on 4th August. It commenced work on 24th July, 1912, and in the first 12 months completed 19,828 miles. Up to the time it was taken over by the War Office it had completed 40,154 miles. During the whole of that time it was driven by Private L. Sorrell, who is now on active service with the Worcestershire Regiment. The fourth machine is Messrs. Skinner and Rook's No. 1 Albion, which is of the 32 h.p., three-ton type. This lorry commenced work in May, 1911, and in the first 12 months completed 8200 miles. The second year the total was 15,700 miles, and at the end of the third year this had reached 24,831 miles. This machine was taken over by the W.D. on 5th August, when it had completed 27,434 miles. It had then had one overhaul—after 23,000 miles. In a later message from the Front we read: "The 'Skinner and Rook' is now being made very camfortable as a dormitory as• it usually carries sacks of oats, which make comfortable beds."