THE VALUE OF TRACTOR VERSATILITY
8th May 1942
Page 28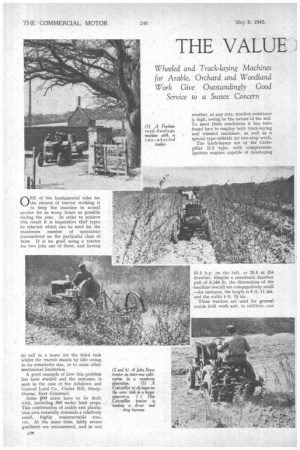 Page 29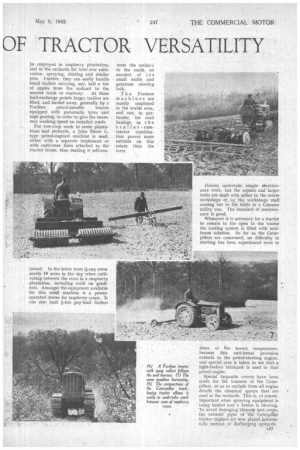 Page 28, 8th May 1942 —
THE VALUE OF TRACTOR VERSATILITY
Close
Wheeled and Track-laying Machines for Arable, Orchard and Woodland Work Give Outstandingly Good Service to a Sussex Concern
r\NE of the fundamental rules for V./the success of tractor working is
to keep the machine in actual service for as many hours as possible during the year. In order to achieve this result it is imperative that types be selected which can be used for the maximum number of operations encountered on the Particular class of farm It is no good using a tractor for two jobs out of three, and having to call in a horse for the third task whilst the tracto'r stands by idle owing to its unsuitable size, or to some other mechanical limitation.
A good example of how this problem has been studied and the outcome, is seen in the case of the Ashdown and General Land Co., Cinder Hill, Sharpthorne, East Grinstead.
Some V100 acres have to be dealt with, including 300 under fruit crops. This combination of arable and plantation area naturally demands a relatively small, highly manceuvrable tractor. At the same time, fairly severe gradients are encountered, and in wet weather, at any rate, tractive resistance is high, owing to the nature of the soil. To meet these conditions it has been found beA to employ both track-laying and wheeled machines, as well as a special type suitable for row-crop work. The track-layers are of the Caterpillar 112 'type, with compressionignition engines capable of developing
31.5 h.p. on the belt, or 25.5 at the drawbar. Despite a maximum drawbar pull of 6,160 lb. the dimensions of the -machine overall are comparatively small —for instance, the length is 8 ft. 11 ins. and the width 4 ft. n ins.
These tractors are used for general arable field work and, in addition, can be employed in raspberry plantatioik and in the orchards for inter-row cultivation, spraying, dusting and similar jobs. Further, they can easily handle small trailers carrying, say, half a ton of apples from the orchard to the nearest track or roadway. At these load-exchange points larger trailers are filled, and hauled away, generally by a Fordson petrol-paraffin tractor equipped with pneumatic tyres and high gearing, in order to give the necessary working speed on metalled roads.
For row-crop work in some plantations and orchards, a John 'Deere type petrol-engined machine is used, either with a separate implement or with cultivator tines attached to the tractor frame, thus making it self-con tamed. In the latter form il.c.aq coves nearly 10 acres in the day when cultivating between the rows in a raspberry plantation, including work on gradients. Amongst the equipment available for this small machine is a poweroperated duster for raspberry crops. It can also haul Pon pay-load trailers
Drivers undertake simple Maintenance work, but the repairs and larger tasks are dealt with either in the estate workshops or. by the workshops staff coming out to the fields in a Commer utility van. The standard of maintenance is good.
Whenever it is necessary for a tractor to remain in the open in the Winter the cooling system is filled with antifreeze solution. So far as the Caterpillars are concerned, no difficulty in starting has been experienced even in times of the lowest temperature, because this anti-freeze provision extends to the petrol-starting engine, and special care is taken to see that a light-bodied lubricant is used in that petrol engine.
Special tarpaulin covers have been made for the bonnets of the Caterpillars, so as to exclude from all engine details the chemical sprays that are used in the orchards. This is, of course. important when spraying equipment is being hauled and a breeze is blowing. To avoid datuaging'blossorn and crops, the exhaust pipes of The Caterpillar
tractor engines are now placed horizontally instead of discharging upwards.