More Criticisms of Tyre-control Scheme
8th May 1942
Page 23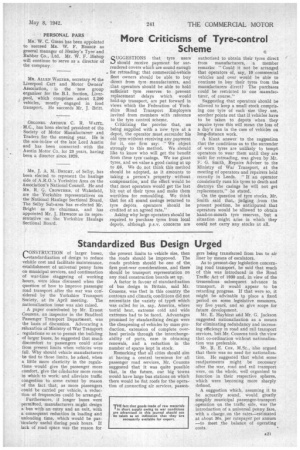 Page 23, 8th May 1942 —
More Criticisms of Tyre-control Scheme
Close
SUGGESTIONS that tyre users should receive payment for surrendered covers which are sound enough for retreading; that commercial-vehicle fleet owners should be able to buy direct from tyre manufacturers, and that operators should be able to hold sufficient tyre reserves to prevent replacement delays which would hold-up transport, are put forward in views which the Federation of Yorkshire Road Transport Employers invited from members with reference to the tyre control scheme.
Criticizing the proviso that, on being supplied with a new tyre at a depot, the operator must surrender his old tyre without receiving any payment for it, one firm say: " We object strongly to this method. We should like to know who will get the benefit from these tyre casings. We use giant tyres, and we. value a good casing at up to £6. We do not think this method should be adopted, as it amounts to taking a person's property without compensation, and the effect would be that most operators would get the last bit out of their tyres and make them worthless for remoulding. We think that for all sound casings returned to tyre depots, operators should be credited at an agreed rate."
Asking why large operators should be required to purchase tyres from local depots, although p.s.v. concerns are authorized to obtain their tyres direct from manufacturers, a member remarks: " Could it not be arranged that operators of, say, 10 commercial vehicles and over would be able to continue to buy their tyres from the manufacturers direct? The purchases could be restricted to one manufacturer, of course."
Suggesting that operators should be allowed to keep a small stock compris. ing one tyre of each size they use, another points out that if vehicles have to be taken to depots when they require tyres this will mean the loss of a day's run in the case of vehicles on long-distance work.
A blunt answer to the suggestion that the conditions as to the surrender of worn tyres are unlikely to tempt operators to wear them until they are unfit for retreading, was given by Mr. F. G. Smith, Repairs Adviser to the Ministry of War Transport, at the meeting of operators and repairers held recently in Leeds. " If an operator consistently runs his tyres to death and destroys the casings he will not get replacements," he stated.
On the question of tyre stocks, Mr. Smith said that,judging from the present position, he anticipated that operators would be allowed to obtain hand-to-mouth tyre reserves, but a situation might arise in which they could not carry any stocks at all.