Passing Comments
8th May 1942
Page 18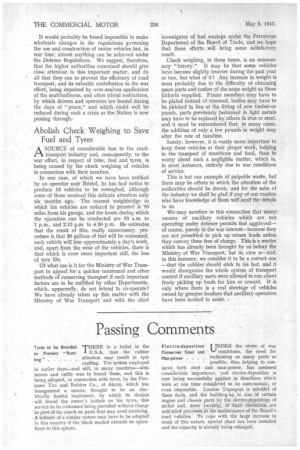 Page 19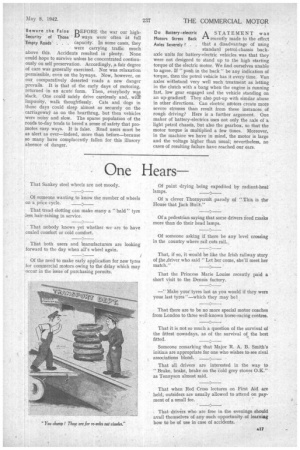 Page 18, 8th May 1942 —
Passing Comments
Close
Tyres to be Branded rr'HERE is a belief in the to Prevent " RustI U .S.A. that the rubber
ling" situation may result in tyre rustling. The system employed in earlier days—and still, in many countries—with horses and cattle was. to brand them, and this is being adopted, in connection with tyres, by the Firestone Tire and Rubber Co., of Akron, which has inaugurated a means, thought to be an electrically heated implement, by which its dealers will brand the owner's initials on his tyres, this service to its customers being provided without charge as part of the check on parts that. may need servicing.
tcherrie of a similar nature may have:to be adopted
in this country if black market extends its operations to this sphere.
El ectro-deposition TNDER the stress of war
Conserves Steel and %-) conditions, the need for Man-power . . . . reclaiming as many parts as
possible, thus helping to conserve both steel and man-power, has assumed considerable importance, and electro-deposition is now being successfully applied in directions which were at one time considered to be uneconomic, or even impossible. London Transport is mindful of these facts, and the building-up to size of certain engine and chassis parts by the electro-deposition of nickel and, more receMly; of hard chrbmium are well triedprocesses in the maintenance of the Board's road vehicles. To cope with the large increase in work of this nature, special plant has been installed and the capacity is already being enlarged.
BEFORE the war our highways were often ht full capacity. In some cases, they were carrying traffic much above this. Accidents resulted in plenty. None could hope to survive unless he concentrated continuously on self preservation. Accordingly, a fair degree of care was generally exercised. Nor was relaxation permissible, even on the byways. Now, however, on our comparatively deserted roads a new danger prevails. It is that of the early days of motoring, returned -in an acute form. Then, everybody was slack. One could safely drive carelessly and, wirfiimpunity, walk thoughtlessly. Cats and dogs in those days could sleep almost as securely on the carriageway as on the hearthrug, but then vehicles were noisy and slow. The sparse population of the roads to-day tends to breed a sense of safety that promotes easy. ways. It is false. Road users must be as alert as ever—indeed, more than before—because so many have complacently fallen for this illusory absence of danger.
Beware the False Security of Those 'Erniaty Roads .
Do Battery-electric A STATEMENT was Motors Stress Back 1-1. recently made to the effect Axles Severely ? . . that a disadvantage of using
standard petrol-chassis backaxle units for battery-electric vehicles was that they were not designed to stand up to the high starting torque of the electric motor. We find ourselves unable to agree. If "push in the back" be any indication of torque, then the petrol vehicle has it every time. Van axles withstand very well such treatment as letting in the clutch with a bang when the engine is running fast, low gear engaged and the vehicle standing on an up-gradient. They also put-up with similar abuse in other directions. Can electric nrotors create more severe stresses than result from these instances of rough driving? Here is a further argument. One maker of battery-electrics uses not only the axle of a light petrol thassis, but also the gearbox, so that the motor torque is multiplied a few times. Moreover, in the machine we have in mind, the motor is large and the voltage higher than usual; nevertheless, no cases of resulting failure have reached our ears.