Answers to Queries.
8th March 1917
Page 20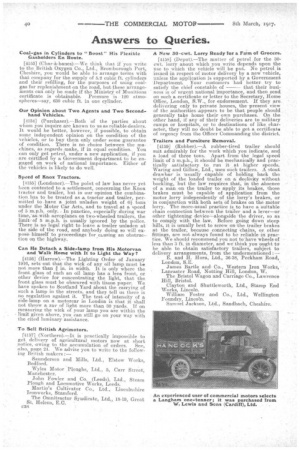 Page 20, 8th March 1917 —
Answers to Queries.
Close
Coal-gas in Cylinders to "boost" His Flexible Gasholders En Route.
[4153] (Char-ii-banes).—We think that if you write to the British Oxygen Co., Ltd., Bromborough Port, Cheshire, you would be able to arrange terms with that company for the supply of 5.2 cubic ft. cylinders and their refilling, for the purposes of using coalgas for replenishment on the road, but these arrangements can only be made if the Ministry of Munitions certificate is obtainable. Pressure is 120 atmospheres—say, 630 cubic ft. in one cylinder.
Our Opinion about Two Agents and Two Secondhand Vehicles.
[4154] (Purchaser).—Both of the parties about whom you inquire are known to us as reliable dealers. It would be better, however, if possible, to obtain some independent opinion on the condition of the vehicles, or to buy them only under some guarantee of condition. There is no choice between the machines,. as regards make, if in equal condition. You can only get petrol, under a new application, if you are certified by a, Government department to be engaged on ,work of national importance. Either of the vehicles is likely to do well.
Speed of Knox Tractors.
[1155] (Londoner).—The point of law has never yet been contested to a-settlement, concerning the Knox tractor and trailer, but in our opinion the combina.tion.bas to be treated as a tractor and trailer, permitted to have a joint unladen weight of 61 tons under the Motor Car Acts, and to bmvelat a speed of 5:m.p.h. only., In practice, especially during war time,!as.with aeroplanes on two-wheeled trailers, the lirnit:of 5 m.p.h. is usually ignored by the police. There is no legal right, to leave a: trailer unladen at the side Of the road, and anybody doing so will expose'. himself to proceedings for wising an obstruction on the highway.
Can He Detach a Side-ramp from His Motorvan and Walk Home with It to Light the Way ?
[4156] (Harrow).—The Lighting Order of January 1916, sets out that the wick of any oil lamp. must be not more than in. in width. It is only where the front. glass of such an oil lamp has a lens front, or other device for concentrating the light, that the front glass must be obscured with tissue paper. We have spoken to Scotland Yard about the carrying of such a lamp in the streets, and they tell us there is no regulation against it. The test of intensity of a side-lamp on a motorcar in London is that it shall not throw a ray of light more than 30 yards. If on measuring the wick of your lamp you are within the limit given above, you can still go on your way with the cited luminary assistance.
To Sell British Agrinnotors.
[4157] (Northern).—It is practically impOssible to get delivery of agricultural motors now at short ,notice, owing to the accumulation of orders. See, also. page 24. We advise you to write to the following British makers :— Saunderson and Mills, Ltd., Elstow Works, Bedford.
Wyles Motor Ploughs, LtcL, 5, Carr Manchester.
John Fowler and Co. (Leeds), Ltd., Plough and Locomotive Works, Leeds. Martin's Cultivator Co., Ltd., Lincolnshire Ironworks, Stamford.
The Omnitractor Syndicate, Ltd" 18-19, Great Street, Steam St. Helens, E.C.
c5S • A New 30-cwt. Lorry Ready for a Firm of Grocers.
[4158] (Depot).—The matter of petrol for the 30cwt.. lorry about which you write depends upon the use to which the vehicle will be put. No petrol is issued in respect of motor delivery by a new vehicle, unless the application is supported by a Government 'Department. Your customers had bettertry to satisfy the chief constable of that their business is of urgent national importance, and then send on such a certificate or letter to the Secretary, Home Office, London, S.W.,. for endorsement. If they are. delivering only to private houses, the •present view of the authorities appears to be that people should generally take home their own purchases. On the other hand, if any of their deliveries are to military camps or hospitals, or to destinations of like character, they will no doubt be able to get a certificate of urgency from the Officer Commanding the district.
Trailers and Furniture Removal.
[4159] (Rubber).—A rubber-tired trailer should suit admirably for the work which you indicate, and a load of three tons. Apart from the legal speed limit of 5 m.p.h. it should be mechanically arid practically satisfactory to run it at higher speeds. Waring and Gillow, Ltd., uses'such trailers. A stout drawbar is usually capable of holding back the weight of the loaded trailer on a declivity without buckling, -but the law' requires that, in the absence of a man on the trailer to apply its brakes, those brakes must be capable of application from the 'motor lorry independently of the lorry's brakes, or in conjunction with both sets of brakes on the motor lorry. The m-ore-usual practice is to have a Suitable chain connection between the trailer and a lever—or other tightening device—alongside the driver, so as to comply with the -law. Before going down steep
• hills, it is usually best to screw on•the trailer brakes at the trailer, because connecting chains, or other fittings, are not always found to be reliable in practice. We should recommend you not to'have wheels of less than 3 ft. in diameter, and we' think you ought to be able to obtain satisfactory trailers, subject to delivery arrangements, from the undermentioned :— E. and H. flora, Ltd., 36-38, Peckham Road, London, S.E. James Bartle and Co., Western Iron Works, . Lancaster Road, Notting Hill, London, W.
The Bristol Wagon and Carriage Co., Lawrence Hill, Bristol.
Clayton and Shuttleworth, Ltd., Stamp End Works, Lincoln. William' Foster and Co., Ltd., Wellington Foundry, Lincoln. Samuel Jackson, Ltd., Sandi:ma, Cheshire.