The Supply Department.
8th March 1917
Page 19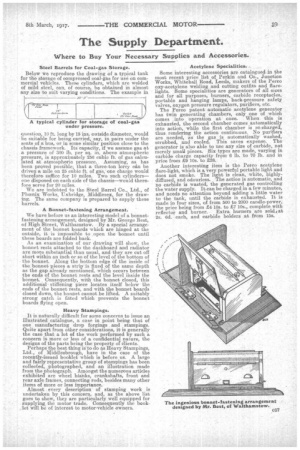 Page 19, 8th March 1917 —
The Supply Department.
Close
Where to Buy Your Necessary Supplies and Accessories.
Steel Barrels for Coal-gas Storage.
Below we reproduce the drawing of a typical tank for the storage of compressed coal-gas for use on commercial vehicles. These cylinders, which are wedded of mild steel, can, of course, be obtained in almost any size to suit varying conditions. The example in
ee. 0
question, 10 ft. long by 15 ins, outside diameter, would he suitable for being carried, say, in pairs under the seats of a bus, or in some similar position close to the chassis framework. Its capacity, if we assume gas at a pressure of 300 lb. per sq. in. above atmospheric pressure, is approximately 256 cubic ft. of gas calculated at atmospheric pressure.. Assuming, as has been proved possible, that a three-ton lorry en be driven a mile on 25 cubic ft. of gas, one charge would therefore suffice for 10 miles. Two such cylinders— one disposed on each side of the chassis--would therefore serve for 20 miles.
We are indebted to the Steel Barrel Co.. Ltd., of Phoenix Works, Uxbridge, Middlesex, for the drawMg. The same company is prepared to supply these barrels.
A Bonnet-fastening Arrangement.
We have before us an interesting model of a bonnetfastening arrangement, designed by Mr. George Best, of High Street, Walthamstow. By a special arrangement of the bonnet boards which are hinged at the outside, it is impossible to _open the bonnet until these boards are folded back.
As an examination of our drawing will show, the bonnet rests attached to the dashboard and radiator are more substantial than usual, and they are cut off short within an inch or so of the level of the bottom of the bonnet. Along the bottom edge of the inside of the bonnet pieces a strip is fixed of the same depth as the gap already mentioned, which occurs between the ends of the bonnet rests and the level inside the bonnet. Consequently, with the bonnet closed, this additional stiffening piece locates itself below the ends of the bonnet rests, and with the bonnet boards closed down, the bonnet eannot be lifted. A suitably strong catch is fitted which prevents the bonnet boards flying open.
Heavy Stampings.
It is naturally difficult for some concerns to issue an illustrated catalogue, a case in point being that of one manufacturing drop forgings andstampings. Quite apart from other considerations, it is generally the case that a lot of the work performed by such a concern is more or less of a confidential nature, the designs of the parts being. the property of Clients. Perhaps the best thing tit& do as Heavy Sta,mpings, Ltd., of Middlesbrough, have in the case of the recently-issued booklet -which is before us. A large and fairly representative group of stampings has been collected, photographed, and an illustration made from the_photograph. Amongst the numerous articles exhibited are wheel blanks, crankshafts, front and rear axle frames, connecting rods, besides many other items of more or less importance. Almost every description of stamping work is undertaken by this concern, and, as the above list goes to show, they are particularly well equipped for supplying. the motor trade. Consequently the booklet will be of interest to motor-vehicle owners.
Acetylene Specialities.
Some interesting accessories are catalogued in the most recent price list of Perkin and Co., Junction Works, Whitehall Road, Leeds, makers of the Perco oxy-acetylene welding and cutting outfits and flarelights. Some specialities are generators of all sizes and for all purposes, burners, carbide receptacles, portable and hanging lamps, back-pressure safety valveseoxygen pressure regulators, purifiers, etc.
The Pereo patent automatic acetylene generator has twin generating chambers, only one of which comes into operation at once. When this is exhausted, the second chamber comes automatically into action, while the first chamber is re-charged,, thus rendering the action continuous. No purifiers are needed, as the gas is automatically washed, scrubbed, and cooled. This saves expense. The generator is also able to use any size of carbide, not merely small pieces. Six types are made, varying in carbide charge capacity from 6 lb. to 70 lb. and in price from £9 10s. to 238.
Another interesting item is the Pereo acetylene flare-light, which is a very powerful portable light and does not smoke. The light is clean, white, highlydiffusedt and odourless. The action is automatic, and no carbide is wasted, the generated gas controlling the water supply. It can be charged in a few minutes, and needs no attention beyond adding a little water to the tank, until the carbide is exhausted. It is made in four sizes, of from 500 to 2000 candle-power, the price being from 24 10s. to 27 10s., complete with reflector and burner. Extra burners are solc14at 2s. 6d. each, and carbide holders at from 15s.