Our Despatches from the Front (No. 130).
8th March 1917
Page 17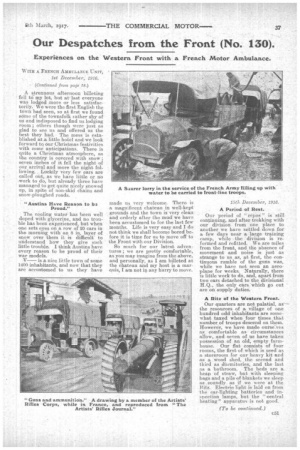 Page 17, 8th March 1917 —
Our Despatches from the Front (No. 130).
Close
Experiences on the Western Front with a French Motor Ambulance.
WITH A. FRENCH AMBULASCE UNIT,
1-st December; 1916.
(Con4inuod from pagie .18.)
A strenuous afternoon billeting
• fell tii-my lot, but at-last everyone was lodged more or less satisfactorily. We were the first English the town had seen, so at first we found seine of the townsfolk rather shy of us and indisposed to find us lodging room ; others though were just as
• glad to see us and offered us the best they had. The mess is established at.,a little hotel and we look forward to our Christmas festivities with some anticipations. There is quite a Christmas atmosphere, a.s tho country is covered with snow ; seven inches of it fell the night of • our arrival and more the night following.. Luckily very few ears are called out, as we have little or no ..work to de, but already three have managed to get quite nicely snowed up, in spite of non-skid chains and snow-ploughed roads.
"Austins Have Reason to ba Proud."
The eooling w.ater •ha s -been well doped with glycerine, and no trouble has been experienced, but when one sets eyes on a row of 20 cars in the morning with an a in. layer of snow over them it is difficult to understand how they give such little trouble. I think Austins have every reason to be proud of their war models.
V— is a nice little town of some 1400 inhabitants, and now that they are accustomed to us they have made us very welcome. There is a magnificent chateau in well-kept grounds and. the town is very clean and orderly after the mud we have been accustomed to for the last few months. Life is very easy and I do not think we shall become bored before it is time for us to move off to the Front with our Division.
So much for our latest adventures; we are pretty comfortable, as you may imagine from the above, and personally, as I am billeted at the chateau and my host is a marelms, I am not in any hurry to move. 1586. December, 1916.
A Period of Rest.
Our period of " repos " is still continuing, and after trekking with our division from one place to another we have settled down for a few days near a large training camp., while the 'division is reformed and refitted. We are miles from the front, and the absence of movement and noise is just as strange to us as, at first, the continuous rumble of the guns was, while we have not seen an aeroplane for weeks.. Naturally, there is little work to do, and, apart from two cars detached to the divisional H.Q., the only ears which go out are on supply duties.
A Ritz of the Western Front.
Our quarters are not palatial, as the resources of a. village of one hundred odd inhabitants are somewhat taxed when four times that number of troops descend on them. However, we have made ourse:ves as comfortable. as circumstances allow, and seven of us have taken possession of an old, empty farmhouse. Our fiat consists of four rooms, the first of which is used as a storeroom for our heavy kit nnd as a wood shed, the second and third as olormitories, and the last as a bathroom. The beds are a heap of straw, but with sleeping bags and a pile of blankets we sleep as soundly as if we were at the Fitz. Electric light is laid on frern the' car-lighting batteries and inspection lamps, but the " central heating" apparatus is not good.