lorwegian launch for ayland National II
8th June 1979
Page 5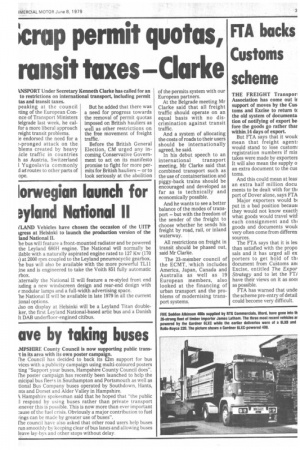 Page 5, 8th June 1979 —
lorwegian launch for ayland National II
Close
(LAND Vehicles have chosen the occasion of the UITP igress at Helsinki to launch the production version of the land National II.
he bus will feature a front-mounted radiator and be powered the Leyland 680H engine. The National will normally be ilable with a naturally aspirated engine rated to 127 Kw (170 1) at 2000 rpm coupled to the Leyland pneumocyclic gearbox. he bus will also be available with the more powerful TLI1 me and is engineered to take the Voith 851 fully automatic rbox.
,xternally the National II will feature a re-styled front end aiding a new windscreen design and rear-end design with v modular lamps and a full-width advertising space.
'he National II will be available in late 1979 in all the current donal options.
dso on display at Helsinki will be a Leyland Titan doubleker, the first Leyland National-based artic bus and a Danish It DAB underfloor-engined citibus.