increase in Yorkshire Rates for Coal Transport
8th June 1945
Page 22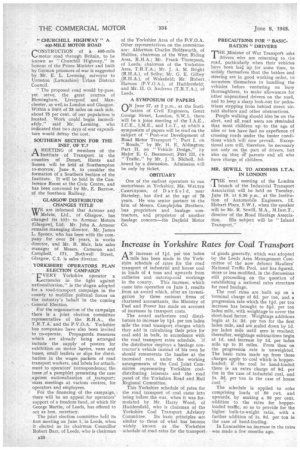 Page 22, 8th June 1945 —
increase in Yorkshire Rates for Coal Transport
Close
AN increase of lid, per ton laden. mile has been made in the York
shire schedule of rates for the road transport of industrial and house coal in loads of 4 tons and upwards from collieries and outcrop-coal workings
in the county. This increase, which came into operation on June 1, results from an award which, after an investigation by three eminent firms of chartered accountants, the Ministry of Fuel and Power has made on account of increases in transport costs.
The award authorizes coal distributors to increase by lid, per ton laden mile the road transport charges which they add in calculating their price for coal sold in bulk, in accordance with the road transport rates schedule. If the distributor employs a haulage contractor's vehicle instead of' his own he should remunerate the haulier at the increased rate, under the working arrangements of the Coal Joint COMmittde representing Yorkshire coaldistributing interests and the road panel of the Yorkshire Road and Rail Regional Committee.
This Yorkshire schedule of fates for the road transport of coal came into being belore the war, when it was formulated by Mr. Harry Wood, of Huddersfield, who is chairman of the Yorkshire Coal Transport Advisory Committee. Its basic principles -are similar to -those of what has become widely known as the Yorkshire schedule' of road rates for the transport
of goods generally, which was adopted by the Leeds Area Management Committee of the now defunct Hauliers' National Traffic Pool, andhas figured, more or less modified, in the discussions still proceeding. on the queStion of establishing a national rates structure for road haulage.
The coal rates are built up ori a terminal charge of 6d. per ton, and a progression rate which the lid, per ton increase has brought to 5id. per ton laden mile, with weightage to cover the short-haul factor. Weightage additions begin at is. 3d. per ton for the first laden mile, and are scaled down by id. per laden mile until zero is reached; thereafter, weightage subtractions begin at Id, and increase by Id. per laden mile up to 31 miles. From then on the progression rate is unweighted. The basic rates made up from these
charges apply to coal which is hopper. loaded; if the coal be hand-loaded there is an extra charge of 9d. per fon in the -case of industrial coal, and Is. 3d. per ton in the case of house coal.
The schedule is applied to coke comprising loads of 50 cwt, and upwards, by making a 50 per cent. addition to the rates for hopper. loaded traffic, so as to provide for the higher bulk-to-weight ratio, with a further addition of is. 9d. per ton in the case of hand-loading.
In Lancashire an increase in the rates • was made a few months ago.