Passing Comments
8th June 1945
Page 18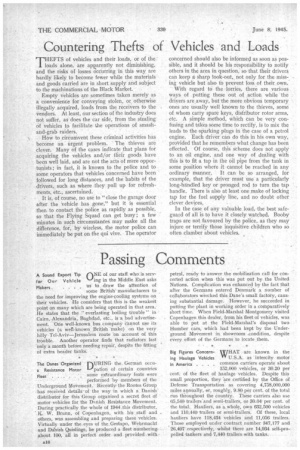 Page 19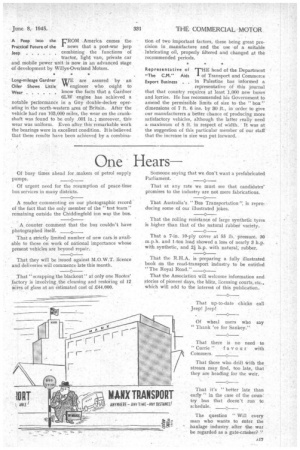 Page 18, 8th June 1945 —
Passing Comments
Close
ME of our staff who is serv'-"ing in the Middle East asks us to draw the attention of some British" manufacturers to the need for improving the engine-cooling systems on their vehicles. He considers that this is the weakest point on many which are being operated in that area. He states that the "everlasting boiling trouble" in Cairo, Alexandria, Baghdad, etc., is a bad advertisement. One well-known bus company cannot use its vehicles (a wen-known British make) on the very hilly Tel-Aviv—Jerusalem route in account of this trouble. Another operator finds that radiators last only a month before needing repair, despite the fitting of extra header tanks. A Sound Export Tip for Our Vehicle
Makers . • • • •
DURING the, German occupation of certain countries some extraordinary feats were performed by members of the Underground tyloVement. Recently the Rootes Group has received details of the way in which a Danish distributor for this Group organized a secret fleet of motor vehicles for the Danish Resistance Movement. During practically the whole of 1944 ,this distributor, K.. W. Brunn, of Copenhagen, with his staff and . others, was assembling and preparing these vehicles. Virtually under the eyes qf the Gestapo, Wehrmacht and Danish Quislings, he produced a fleet numbering. about 100, all in perfect order and provided with
The Danes Organized a Resistance Motor Fleet . . . .
petrol, ready to answer the mobilization call for concerted action when this was put out by the United Nations. Complication was enhanced by the fact that after the Germans entered Denmark a number of collaborators wiecked this Dane's small factory, causing substantial damage. However, he succeeded in putting the plant in working order in a comparatively short time. When Field-Marshal Montgomery visited , Copenhagen this dealer, from his fleet of vehicles, was able to put at the Field-Marshal's disposal two Humber cars, which had been kept by the Under'ground Movement in, showroom -condition, despite every effort of the Germans to locate them.
Big Figures ConcernWHAT are known in the ing Haulage Vehicles VV U.S.A. as intercity motor
in America . . . common carriers operate about 152,000 vehicles, or 30.20 per cent, of the fleet of haulage vehicles. Despite this small proportion, they are certified by the Office of . Defense Transportation as covering 4,758,000,000 miles annually, Or, roughly, 9.80 per cent, of the total run throughout the country. These carriers also use
. 65,540 trailers.and semi-trailers, or .30.04per cent. of the total. Hauliers, as a. whole, own 632,500 vehicles and 110,440 trailers or semi-traffere. Of these, local hauliers have 118,434 vehicles and 11,056 trailers. Those employed under contract number 347,177 and 20,407 respectively, whilst there are 14,934 sellfrpropelled tankers and 7,440 trailers with tanks. A Peep Into the FROMAmerica comes the
Practical Future of the news that a post-war jeep Jeep combining the functions of tractor, light van, private car and mobile power unit is now in an advanced stage of development by Whys-Overland Motors.
Long-mileage Gardner WE are assured by an Oiler Shows Little " 'engineer who might to Wear know the facts that a Gardner 6LW engine has achieved a notable performance in a Guy double-decker operating in the north-western area of Britain. After the vehicle had run 103,000 miles, the wear on the crankshaft was found to be only .001 in.; moreover, this wear was uniform. Even after this remarkable work the bearings were in excellent condition. his believed that these results have been achieved by a combina tion of two important factors, these being great precision in maniffacture and the use of. a suitable lubricating oil, properly filtered and changed at the recommended periods.
THE head of the Department of Transport and Commerce in Palestine has informed a representative Of this journal that that country requires at least 1,000 new buses and lorries. He has recommended his Government to amend the permissible limits of size to the " box " dimensions of 7 ft. 6 ins. by 30 ft., in order to give our manufacturers a better chance of producing more satisfactory vehicles, although the latter really need amaximum of 8 ft. in respect of width. It was at the suggestion of this particular member of our staff that the increase in size Was put forward.
Representative of The C.M." Aids Export Business