Passing Comments
8th July 1955
Page 40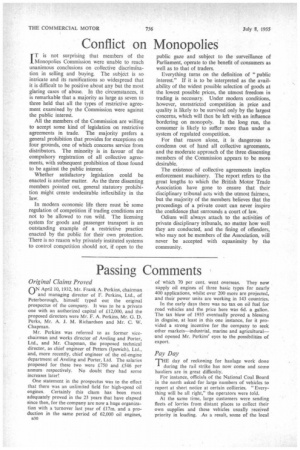 Page 41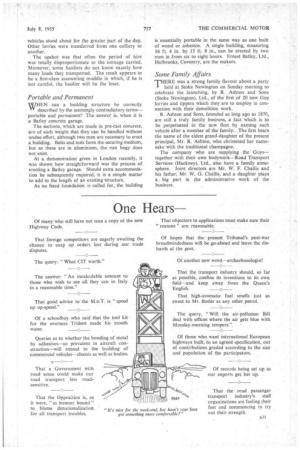 Page 40, 8th July 1955 —
Passing Comments
Close
Original Claims Proved
nN April 10, 1932, Mr. Frank A. Perkins, chairman
and managing director of F. Perkins, Ltd., of Peterborough, himself typed out the original prospectus of the company. It was to be a private one with an authorized capital of £12,000, and the proposed directors were Mr. F. A. Perkins, Mr. G. D. Perks, Mr. A. J. M. Richardson and Mr. C. W. Chapman.
Mr. Perkins was referred to as former vicechairman and works director of Aveling and Porter, Ltd., and Mr. Chapman, the proposed technical director, as chief engineer of Petters (Ipswich), Ltd., and, more recently, chief engineer of the oil-engine department of Aveling and Porter, Ltd. The salaries proposed for these two were £750 and £546 per annum respectively. No doubt they had some increases later!
One statement in the prospectus was to the effect that there was an unlimited field for high-speed oil engines. Certainly this claim has been most adequately proved in the 23 years that have elapsed since then, for the company are now a huge organization with a 1urnover last year of Mtn. and a production in the same period of 62,000 oil engines, B30
of which 70 per cent, went overseas. They now supply oil engines of three basic types for nearly 400 applications, whilst over 200 more are projected, and their power units are working in 143 countries.
In the early days there was no tax on oil fuel for road vehicles and the price here was 6d. a gallon. The tax blow of 1935 eventually proved a blessing in disguise, at least in this one instance, for it provided a strong incentive for the company to seek other markets—industrial, marine and agricultural— and opened Mr. Perkins' eyes to the possibilities of export.
Pay Day
THE day of reckoning for haulage work done during the rail strike has now come and some hauliers are in great difficulty.
For instance, officials of the National Coal Board in the north asked for large numbers of vehicles to report at short notice at certain collieries. "Everything will be all right," the operators were told.
At the same time, large customers were sending fleets of lorries from distant places to collect their own supplies and these vehicles usually received priority in loading. As a result, some of the local vehicles stood about for the greater part of the day. Other lorries were transferred from one colliery to another.
The upshot was that often the period of hire was totally disproportionate to the tonnage carried. Moreover, some hauliers do not know exactly how many loads they transported. The result appears to be a first-class accounting muddle in which, if he is not careful, the haulier will be the loser.
Portable and Permanent
WHEN can a building structure be correctly " described by the seemingly contradictory terms— portable and permanent? The answer is, when it is a Batley concrete garage.
The sections, which are made in pre-cast concrete, are of such weight that they can be handled without undue effort, although two men are necessary to erect a building. Bolts and nuts form the securing medium, but as these are in aluminium, the rust bogy does not exist.
At a demonstration given in London recently, it was shown how straightforward was the process of erecting a Batley garage. Should extra accommodation be subsequently required, it is a simple matter to add to the length of an existing-structure.
As no fixed foundation is called for, the building is essentially portable in the same way as one built of wood or asbestos. A single building, measuring 16 ft. 4 in. by 15 ft. 8 in., can be erected by two men in from six to eight hours. Ernest Batley, Ltd., Holbrooks, Coventry, are the makers.
Some Family Affairs
THERE was a strong family flavour about a party held at Stoke Newington on Sunday morning to celebrate the launching, by R. Ashton and Sons (Stoke Newington), Ltd., of the first of 20 new Guy lorries and tippers which they are to employ in connection with their demolition work.
R. Ashton and Sons, founded as long ago as 1870, are still a truly family business, a fact which is to be perpetuated in the new fleet by naming each vehicle after a member of the family. The first bears the name of the eldest grand-daughter of the present principal, Mr. R. Ashton, who christened her namesake with the traditional champagne.
The company who are supplying the Guys— together with their own bodywork—Road Transport Services (Hackney), Ltd., also have a family atmosphere. Joint directors are Mr. W. F. Challis and his father, Mr. W. G. Challis, and a daughter plays a big part in the administrative work of the business.