Frugal Flying Dutchman
8th January 1983
Page 29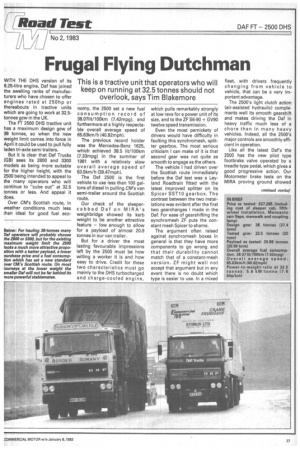 Page 30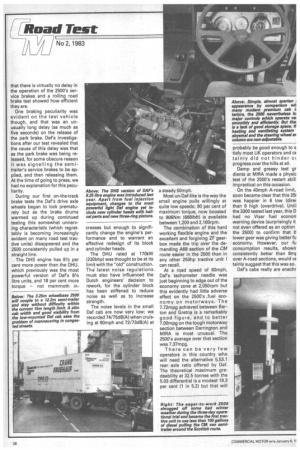 Page 31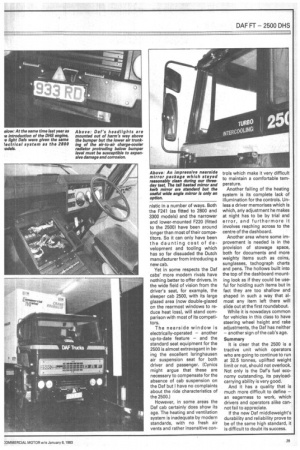 Page 29, 8th January 1983 —
Frugal Flying Dutchman
Close
i This s a tractive unit that operators who will keep on running at 32.5 tonnes should not overlook, says Tim Blakemore
WITH THE DHS version of its 8.25-litre engine, Daf has joined the swelling ranks of manufacturers who have chosen to offer engines rated at 2 50hp or thereabouts in tractive units which are going to work at 32.5tonnes gcw in the UK.
The FT 2500 DHS tractive unit has a maximum design gcw of 38 tonnes, so when the new weight limit conies into force in April it could be used to pull fully laden tri-axle semi trailers.
But it is clear that Daf Trucks (GB) sees its 2800 and 3300 models as being more suitable for the higher height, with the 2500 being intended to appeal to the many operators who will continue to "cube out" at 32.5 tonnes or less. And appeal it does.
Over CM's Scottish route, in weather conditions much less than ideal for good fuel eco nomy, the 2500 set a new fuel consumption record of 38.071it/100km (7.42mpg), and furthermore at a highly respectable overall average speed of 65.63km/h (40.82mph).
The previous record holder was the Mercedes-Benz 1625, which achieved 38.5 lit/100km (7.33mpg) in the summer of 1981 with a relatively slow overall average speed of 63.5km/h (39.47mph).
The Daf 2500 is the first vehicle to use less than 100 gallons of diesel in pulling CM's van semi-trailer around the Scottish route.
Our check of the sleepercabbed Daf on MIRA's weighbridge showed its kerb weight to be another attractive feature — low enough to allow for a payload of almost 20.9 tonnes in our van trailer.
But for a driver the most lasting favourable impressions left by the 2500 must be how willing a worker it is and how easy to drive. Credit for these two characteristics must go mainly to the DHS turbocharged and charge-cooled engine, which pulls remarkably strongly at low revs for a power unit of its size, and to the ZF S6-90 + GV90 twelve speed transmission.
Even the most pernickety of drivers would have difficulty in faulting this synchromesh, splitter gearbox. The most serious criticism I can make of it is that second gear was not quite as smooth to engage as the others.
The vehicle I had driven over the Scottish route immediately before the Daf test was a Leyland Roadtrain fitted with the latest improved splitter on its Spicer SST1 0 gearbox. The contrast between the two installations was evident after the first two gearchanges I made in the Daf. For ease of gearshifting the synchromesh ZF puts the constant mesh Spicer to shame.
The argument often raised against synchromesh boxes in general is that they have more components to go wrong and that their durability cannot match that of a constant-mesh version. ZF might well not accept that argument but in any event there is no doubt which type is easier to use. In a mixed fleet, with drivers frequently changing from vehicle to vehicle, that can be a very important advantage.
The 2500's light clutch action (air-assisted hydraulic) complements well its smooth gearshift and makes driving the Daf in heavy traffic much less of a chore than in many heavy vehicles. Indeed, all the 2500's major controls are smoothly efficient in operation.
Like all the latest Des the 2500 has the new pilot type footbrake valve operated by a treadle type pedal, which gives a good progressive action. Our Motometer brake tests on the MIRA proving ground showed that there is virtually no delay in the operation of the 2500's service brakes and a rolling road brake test showed how efficient they are.
One braking peculiarity was evident on the test vehicle though, and that was an unusually long delay (as much as five seconds) on the release of the park brake. Daf's investigations after our test revealed that the cause of this delay was that as the park brake was being released, for some obscure reason it was signalling the semitrailer's service brakes to be applied, and then releasing them. At the time of going to press, we had no explanation for this peculiarity.
During our first on-the-track brake tests the Daf's drive axle wheels began to lock prematurely but as the brake drums warmed up during continued testing this somewhat unnerving characteristic (which regrettably is becoming increasingly evident on many road test tractive units) disappeared and the 2500 consistently pulled up in a straight line.
The DHS engine has 81/2 per cent more power than the DHU, which previously was the most powerful version of Daf's 81/4 litre units, and 18 per cent more torque — not mammoth in
creases but enough to significantly change the engine's performance and to warrant an effective redesign of its block and cylinder heads.
The DHU rated at 170kW (230bhp) was thought to be at its limit with the "old" construction. The latest noise regulations• must also have influenced the Dutch engineers' decision to rework, for the cylinder block has been stiffened to reduce noise as well as to increase strength.
The noise levels in the small Daf cab are now very low; we recorded 74/75dB(A) when cruising at 60mph and 72/73dB(A) at a steady 50mph.
Most un-Daf-like is the way the small engine pulls willingly at quite low speeds; 90 per cent of maximum torque, now boosted to 906Nm (668Ibft) is available between 1,200 and 2,100rpm.
The combination of this hard working flexible engine and the excellent and forgiving ZF gearbox made the trip over the demanding A68 section of the CM route easier in the 2500 than in any other 250hp tractive unit I can recall.
At a road speed of 60mph, Daf's tachometer needle was just beginning to edge out of the economy zone at 2,050rpm but this evidently had little adverse effect on the 2500's _fuel economy on motorways. The 7.72mpg achieved between Barton and Gretna is a remarkably good figure, and to better 7.00mpg on the tough motorway section between Darrington and MIRA is most unusual. The 2500's average over that section was 7.37mpg.
There can be very few operators in this country who will need the alternative 5.53.1 rear axle ratio offered by Daf. The theoretical maximum gradeability at 32.5 tonnes with the 5.03 differential is a modest 19.3 per cent (1 in 5.2) but that will
probably be good enough to s tisfy most UK operators and CE tainly did not hinder at progress over the hills at all.
Damp and greasy test gr dients at MIRA made a physic test of the 2500's restart abili impractical on this occasion.
On the 40mph A-road limit, soon became clear that this 25( was happier in 6 low (dire( than 6 high (overdrive). Unlil the 3300 tested last year, this D had no Visar fuel econon warning device (surprisingly it not even offered as an option the 2500) to confirm that ti lower gear was giving better fu economy. However, our fu consumption results, showir consistently better than 8mi over A-road sections, would CE tainly suggest that this was so.
Daf's cabs really are anachr nistic in a number of ways. Both the F241 (as fitted to 2800 and 3300 models) and the narrower and lower-mounted F220 (fitted to the 2500) have been around longer than most of their competitors. So it can only have been the daunting cost of development and tooling which has so far dissuaded the Dutch manufacturer from introducing a new cab.
Yet in some respects the Daf cabs' more modern rivals have nothing better to offer drivers. In the wide field of vision from the driver's seat, for example, the sleeper cab 2500, with its large glazed area (now double-glazed on the rearmost windows to reduce heat loss), will stand comparison with most of its competitors.
The nearside window is electrically-operated — another up-to-date feature — and the standard seat equipment for the 2500 is almost extravagant in being the excellent Isringhausen air suspension seat for both driver and passenger. (Cynics might argue that these are necessary to compensate for the absence of cab suspension on the Daf but I have no complaints about the ride characteristics of the 2500.) However, in some areas the Daf cab certainly does show its age. The heating and ventilation system is inadequate by modern standards, with no fresh air vents and rather insensitive con trols which make it very difficult to maintain a comfortable temperature.
Another failing of the heating system is its complete lack of illumination for the controls. Unless a driver memorises which is which, any adjustment he makes at night has to be by trial and error, and furthermore it involves reaching across to the centre of the dashboard.
Another area where some improvement is needed is in the provision of stowage space, both for documents and more weighty items such as coins, sunglasses, tachograph charts and pens. The hollows built into the top of the dashboard mounting look as if they could be useful for holding such items but in fact they are too shallow and shaped in such a way that almost any item left there will slide out at the first roundabout.
While it is nowadays common for vehicles in this class to have steering wheel height and rake adjustments, the Daf has neither — another sign of the cab's age. Summary It is clear that the 2500 is a tractive unit which operators who are going to continue to run at 32.5 tonnes, uplifted weight limit or not, should not overlook. Not only is the Daf's fuel economy outstanding, its payloadcarrying ability is very good.
And it has a quality that is much more difficult to define — an eagerness to work, which drivers and operators alike cannot fail to appreciate.
If the new Daf middleweight's durability and reliability prove to be of the same high standard, it is difficult to doubt its success.