Splashguard Tests in Paris.
8th February 1912
Page 9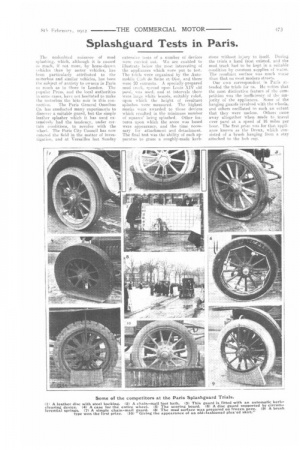 Page 9, 8th February 1912 —
Splashguard Tests in Paris.
Close
The undoubted nuisance of mud splashing, which, although it is caused as much, if not more, by horse-drawn chicks than by motor vehicles, has been particularly attributed to the motorbils and similar vehicles, has been the subject of anxiety to owners in Paris as much as to those in London. The popular Press, and the local authorities in some cases, have not hesitated to make the motorbus the bete noir in this con nection. The Paris General Omnibus Co. has conducted many experiments to discover a suitable guard, hut the simple leather splasher which it has used extensively had the tendency, under certain conditions, to revolve with the wheel. The Paris City Council has now entered the field in the matter of investigation, and at Versailles last. Sunday extensive ;ests of a number of devices were carried out. We are enabled to illustrate below the most interesting of the appliances which were put to test. The trials were organized by the Automobile Club de Seine et Oise, and there were 20 entrants. A specially-prepared mud track, spread upon Louis XIV old pave, was used, and at intervals there were large white boards, suitably ruled, upon which the height of resultant splashes were measured. The highest marks were awarded to those devices which resulted in the minimum number of squares being splashed. Other features upon which the snore was based were appearance, and the time necessary for attachment and detachment. The final test was the ability of each apparatus to graze a roughly-made kerb stone without in;ttry to itself. During the trials a hard frost existed, and the mud track had to be kept in a suitable condition by constant supplies of water. The resultant surface was much worse than that on most modern streets.
Our own correspondent in Paris attended the trials for its. He writes that the most distinctive feature of the competition was the inefficiency of the majority of the appliances. Sonic of the hanging guards revolved with the wheels, and others oscillated to such an extent that they were useless. Others came away altogether when made to travel over pave at a speed of 16 miles per hour. The first prize was for that appliance known as the Dreux, which consisted of a brush hanging from a stay attached to the hub cap.