The L,G.O. Injunction.
8th February 1912
Page 8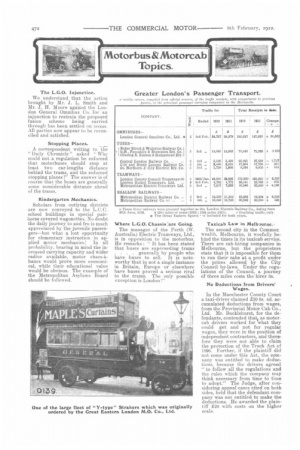 Page 8, 8th February 1912 —
The L,G.O. Injunction.
Close
We understand that the action brought by Mr. J. L. Smith and Mr. J. H. Moore against the London General Omnibus Co. for an injunction to restrain the proposed fusion scheme being carried through has been settled on terms. All parties now appear to be reconciled and satisfied.
Stopping Places.
A correspondent writing to the " Daily Chronicle" asked " Why could not a regulation be enforced that motorbuses should stop at least two car-lengths distance behind the trams, and the enforced stopping places ?" The answer is of course that the buses are generally some considerable distance ahead of the trams.
Kindergarten Mechanics.
Scholars from outlying districts are now conveyed to the L.C.C. school buildings in special pairhorse covered wagonettes. No doubt the daily journey to and fro is much appreciated by the juvenile passengers-but what a lost opportunity for elementary instruction in ap
plied motor mechanics In all probability, bearing in mind the increased carrying capacity and wider radius available, motor chars-abanes would prove more economical, while their educational value would be obvious. The example of the Metropolitan Asylums Board should be followed.
Where L.G.O. Chassis are Going.
The manager of the Perth (W. Australia) Electric Tramways, Ltd., is in opposition to the motorbus. He remarks : "It has been stated that buses are superseding trams . . . . generally by people who have buses to sell. it is noteworthy that in not a single instance in Britain, Europe or elsewhere have buses proved a serious rival to the trains. The only possible exception is London !" Taxicab Law in Melbourne., The second city in the Common wealth, Melbourne, is woefully behind the times in its taxicab service. There are cab-hiring companies in Melbourne, but the proprietors state that it is impossible for them to run their cabs at a profit under the prices allowed by the City Council by-laws. Under the regulations of the Council, a journey of three miles costs the hirer 3s.
No Deductions from Drivers' Wages.
In the Manchester County Court a taxi-driver claimed £30 Ss. 4d. accumulated deductions from wages, from the Provincial Motor Cab Co., Ltd. Mr. Bucklehurst, for the defendants, contended that, as motorcab drivers worked for 'what they could get and not for regular wages, they were in the position of independent contractors, and therefore they were not able to claim the protection of the Truck Act of 1896. Further, if the plaintiff did not come under this Act, the company was entitled to make deductions, because the drivers agreed " to follow all the regulations and the rules which the company may think necessary from time to time to adopt." The Judge, after considering appeal cases cited on both sides, held that the defendant company was not. entitled to make the deductions. He awarded the plaintiff £20 with costs on the higher scale.