Out and Home. —By "The Extractor."
8th February 1912
Page 14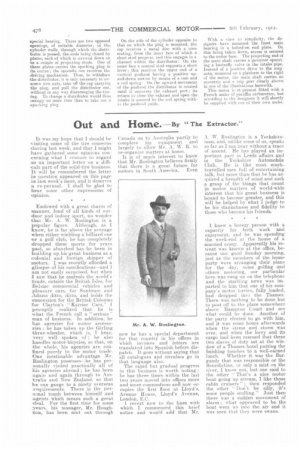 Page 14, 8th February 1912 —
Out and Home. —By "The Extractor."
Close
It was my hope that I should be visiting some of the tire concerns during last week, and that I might have gathered some opinions concerning what I venture to regard as an important letter on a difficult part of the solid-tire business. It will be remembered the letter in question appeared on this page in last week's issue, and it deserves a re-perusal. I shall be glad to bear some other expressions of opinion.
Endowed with a great charm of manner, fond of all kinds of 0111door and indoor sport, no wonder that Mr. A. W. Roslington is a popular figure. Although, as I know, he is far above the average when either wielding a billiard cue Or a golf club, he has completely dropped these sports for years past, so absorbed has he been in building up. his great business as a colonial and foreign shipper of motors. I was recently afforded a glimpse of his ramifications—and I am not easily surprised, hut when I saw that he controls the world's trade, outside the British Isles, for Belsize commercial vehicles and pleasure cars, for Sunbeam and Adams ditto, ditto, and holds the concession for the British Colonies for Clayton's " Karrier Cars," I promptly realized that he is what the French call a " serious " man of business. In addition, he lhas agencies for motor accessories : he has taken up the Girling three-wheeler, which is, I hear, very well spoken of ; he also handles motor-bicycles, so that, on the whole, his agencies are confined purely to the motor trade. One inestimable advantage Mr. 11,oslington possesses—he has persaanally visited practically all of his agencies abroad ; he has been again and again through to Australia and New Zealand, so that ihe can gauge to a nicety overseas requirements. There is the perzanal touch between himself and agents which means such a great deal. For the first time for some years, his manager, Mr. Houghton, has been sent out through
Canada on to _11Nt ralia partly to complete his equipment and largely to allow Al i% A. W. R. to re-organize matters at home. It is of much interest to know that Mr. Roslington believes firmly that there is a great future for motors in South America. Even now he has a special department for that country in his offices in which invoices and letters are translated into Spanish before dispatch. It goes without saying that all catalogues and circulate go in that language also. The rapid but gradual progress in this business is worth noting ; he has three times within the last two years moved into offices more and more commodious anff now occupies the first floor at Lloyd's, Avenue House, Lloyd's Avenue, London, E.C.
I revert now to the lines with which I commenced this brief notice and would add that Mr. A. W. Roslington is a Yorkshireman, and, unlike some of us, speaks as far as I can hear without a trace of accent. He has played an important part in Leeds affairs and in the Yorkshire Automobile Club. He is like most muchtravelled men full of entertaining talk, hut more than that he has acquired a breadth of mind and such a grasp of the things that count in motor matters of world-wide interest that his great business is bound to become greater, and this will be helped by what I judge to be his staunchness and fidelity to those who become his friends.
I knew a breezy person with a capacity for both work and enjoyment, and he was spending the week-end at the house of a married crony. Apparently his retreat was known at the office, because one good Sunday morning, just as the members of the house party were arranging their plans for the day, some golfing and others motoring, our particular hero was rung up on the telephone and the startling news was imparted to him that one of his company's motor lorries, fully loaded, had drooped into the Thames. There was nothing to be done but. to post off to the place somewhere above Hampton Court and see what could be done. Another of the party elected to go with him, and it was some hours afterwards when the stress and storm was over, and when the lorry and its cargo had been rescued that these two slaves of duty sat at the window of a Thames hotel putting the finishing touches to a well-earned lunch. Whether it was the Burgundy that was resnonsible or the Benedictine, or only a mist on the river, I know not, but one said to the other "That's a nice motor boat going up stream, I like those cabin cruisers" ; then responded the other " Don't be silly, it's some people sculling." Just then there was a sudden movement of alarm ; what appeared to be the boat went un into the air and it was seen that they were swans.