Preparing for Manchester.
8th February 1912
Page 11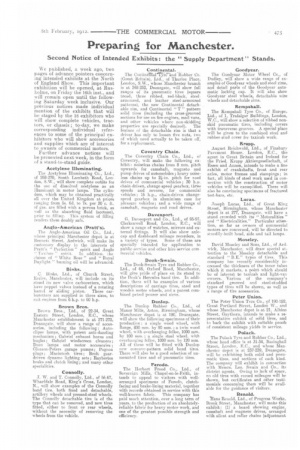 Page 12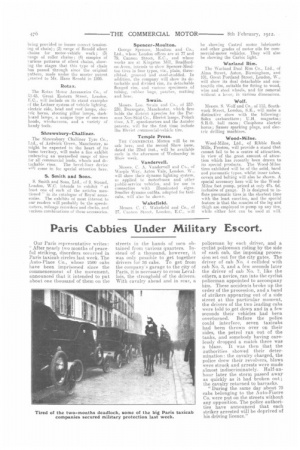 Page 11, 8th February 1912 —
Preparing for Manchester.
Close
Second Notice of Intended Exhibits: the "Supply Department" Stands.
We published, a week ago, two pages of advance pointers concerning intended exhibits at the North of England Show. This important exhibition will be opened, at Ruehohne, on Friday the 16th inst., and will remain open until the follo-wing Saturday week inclusive. Our previous notices made individual mention of the exhibits that will be staged by the 18 exhibitors who will show complete vehicles, tractors, or chassis ; to-day, we make corresponding individual references to some of the principal exhibitors who will show accessories and supplies which are of interest to owners of commercial motors.
Further. advance notices will be presented next week, in the form of a stand-to-stand guide.
Acetylene Illuminating.
The Acetylene Illuminating Co., Ltd., of 268-270, 'iSonth Lambeth Road, London, S.W., will show complete outfits for the use of dissolved acetylene as an illuminant in motor lamps. The cylinders, which may be, obtained practically all over the United Kingdom at prices ranging from 5s. 6d. to 7s. per 20 c. ft. of gas. are filled with a porous brick, as well as the absorbing fluid (acetone), prior to filling. This system of filling renders them doubly safe.
Anglo-American (Pratt's).
The Anglo-American Oil Co., Ltd., whose principal Manchester depot is at Bennett Street, Ardwick, will make its cnstornary display in the interests of Pratt's " Perfection " spirit and Anglo
"
Taxi au " ciii nt. In addition. the
claims of " White Rose " arid " Royal Daylight " burning oil will be advanced.
Binks.
C. Biuks, Ltd., of Church Street, Eccles, Manchester, will include on its stunt its new valve carburetters, which have poppet valves instead of a rotating barrel or sliding piston. These carburetters are supplied in three sizes, to suit engines from 6 h.p. to 60 h.p.
Brown Bros.
Brown Bros., Ltd., of 22-134, Great Eastern Street, London, E.G., whose Manchester establishment is at 271-273, Deansgate, will show a range of accessories, including the following: Autoclipse lamps, with patent anti-dazzling mechanism ; Gabriel exhaust horns and bugles; Gabriel windscreen cleaners; Disco lamps and motor accessories ; Gleason-Peters garage pumps; Pognon plugs; Macintosh tires; Broil geardriven dynamo lighting sets; Raybeetos brake And clutch lining; and many other specialities.
Connolly.
,T, W. arid T. Connolly, Ltd., of 56-67, Wharfclale Road, King's Gross, London, N., will show examples of the Connolly band tire, both fixed and detachable, artillery wheels and pressed-steel wheels. The Connolly detachable tire. is of the type that can be removed, and new tires fitted, either to front or rear wheels, without the necessity of removing the wheels from the vehicle.
Continental.
The ContineisTali7ic—and-Rubber Co. (Great Britain), Ltd., of Thurloe Place, London, S.W., whose Manchester branch is at 248-252, Deansgate, will show full ranges of its pneumatic tires (square tread, three ribbed, red-black, steelarmoured, and leather steel-armoured patterns), the new Continental detachable rim, and Continental " T " pattern solid tires (including the cross-grooved sections for use on fire-engines, mail vans, and other vehicles where non-skidding
properties are specially desired). The feature of the detachable rim is that a driver has only to loosen five nuts, two of which need actually to be taken off, for a replacement.
Coventry Chain.
The Coventry Chain Co., Ltd., of Coventry, will make the following exhibit: noiseless chains from 8 mm. pitch upwards for camshaft, magneto and pump drives of automobiles ; heavy noiseless chains up to 2k-in. pitch for "'Jed drives of commercial vehicles ; 30 h.p. chain-driven, change-speed gearbox, three speeds and reverse, for commercial vehicles ; 16 h.p., chain-driven changespeed gearbox in aluminium case for pleasure vehicles; and a wide range of camshaft, magneto and road drives.
Davenport.
G. Davenport and Co.. Ltd., of 95-97, Clerkenwell Road, London, E.G., will show a range of watches, mirrors and external fittings. It will also show axlecap and dashboard mileage recorders, in a variety of types. Some of these are specially intended for application to public-service and other hire service commercial vehicles.
Donk -Swain.
The Dock-Swain Tyre and Rubber Co., Ltd., of 66, Oxford Road, Manchester, will give pride of place on its stand to the nook's Hercules band tire. In addition, there will be examples of various descriptions of carriage tires, steel and wooden motor wheels, and a patent combined petrel pourer and sieve.
Dunlop.
The Dunlop Rubber Co., Ltd., of Manor Mills, Aston, Birmingham, whose Manchester depot is at 190, Deansgate, will show the following specimens of their production ; a single wood wheel, with flange, 830 rem. by 90 mm. ; a twin wood wheel, with overhanging felloe, 1000 mm. by 100 mOrn. ; a single steel wheel, with overhang _rere fellee, 1000 mm. by 120 mm. All of these will be fitted with Dunlop new coricave-pattern solid band tires. There will also be a good selection of unmounted tires and of pneumatic tires.
Ferodo.
The Herbert Frood Co., Ltd., of Sovereign Mills, Chapel-en-le-Frith, intends to appeal to visitors with wellarranged specimens of Fend°, clutchfacing and brake-lining material, together with records obtained in service with this well-known fabric. This company has paid mush attention, over a long term of years. to the production of an absolutelyreliable fabric for heavy motor work, and one of the greatest possible strength and efficiency.
Goodyear.
The Goodyear Motor Wheel Co., of Dudley, will show a wide range of examples of Goodyear wheels and steel rims, and detail parts of the Goodyear auto. mak locking cap. It will also show Goodyear steel wheels, detachable wire wheels and detachable rims.
KempshalL
The Kempshall Tyres Co., of Europe, Ltd., of 1, Trafalgar Buildings, London, W.C., will show a selection of ribbed nonskid pneumatic tires, including covers. with transverse grooves. A special place will be given toKthruepcombined steel and rubber-stud cover for taxicab work.
August Beichwald, Ltd., of Finsbury Pavement House, London, E.G., the agent in Great Britain and Ireland for the Fried. Krupp Aktiengesellschaft, of Essen and Armen, intends to make a fine exhibit of crankshafts, front and rear axles, motor frames and stampings; in fact, all kinds of steel work used in connection with the construction of motor vehicles will be exemplified. There will also he convincing specimens of fractured test-bars, etc.
Lucas.
Joseph Lucas, Ltd., of Great King Street, Birmingham, whose Manchester depot is at 277, Deansgate, will have a stand crowded with its. " Motoralities " and " Electricalities," Particular attention, so far as owners of commercial motors are concerned, will be directed to sturdily-built head, aide and tail lamps.
Moseley.
David Moseley and Sons, Ltd., of Aidwick, Manchester. will draw special attention to the Moseley detachable and standard " BE.'' types of tires. This company has recently considerably increased the thickness of the inner tubes which it markets, a point which should be of interest to taxicab and light-van owners. Various of the company's standard grooved and steel-studded types of tires will be shown, as well as a. range of tire accessories.
Peter Union.
The Peter Union Tyre Co., of 190-192, Great Portland Street, London W., and whose Manchester depot is at 21, Albion Street, Gaythorn. intends to make a representative exhibit of solid tires, and to back the exhibit with suitable proofs of consistent mileage yields in service.
Polack.
The Polack Tyre and Rubber Co., Ltd., whose head office is at 31-34, Basinghall Street, London, E.G., and whose Manchester depot is at 237-239, Dea,nsgate, will be exhibiting both solid and pneumatic tires, and sections of each kind. The company will exhibit in connection with Messrs. Leo. Swain and Co., its district agents. Owing to lack of space, no old tires with record mileages will be shown, but certificates and other testimonials concerning thorn will be available for the guidance of visitors.
Denold.
Tlans Renold, Ltd., of Progress Works, Brook Street, Manchester, will make this exhibit: (1) a board showing engine, camshaft and magneto drives, arranged with silent and roller chains (adjustment being provided to insure correct tensioning of chain); (2) range of RenoId silent chains for motor-vehicle work; (3) range of roller chains ; (4) samples of various patterns of silent chains, showing the stages that this type of chain has passed through since the original pattern, made under the master patent oranted to Mr. Hans Renold in 1895.
Rota x.
The Rotax Motor Accessories Co., of -43-45, Great Eastern Street., London, E.G. will include on its stand examples of the Leitner system of vehicle lighting, electric side, head and roof lamps, electric horns, steering pillar lamps, dashboard lamps, a unique type of one-man hoods, windscreens, and a variety of handy tools.
Shrews buryChalli ner.
The Shrewsbury Challiner Tyre Co., Ltd., of Ardwick Green, Manchester, as might be expected in the heart of its home territory, will make a fine exhibit embracing an unexcelled range of tires for all commercial loads, wheels and de
tachable rims. The bevel-liner device a.■11 come in for special attention here.
S. Smith and Sons.
S. Smith and Sons, Ltd., of 9, Strand, London, W.C. intends to exhibit "at least one of each of the articles mentioned " in its catalogue of Royal accessories-. The exhibits of most interest to our readers will probably be the speedometers, mileage recorders and clocks, and various combinations a these accessories. Spencer-Moulton.
George Spencer: Moulton and Co., Ltd., whose London offices are at 77 and 79, Cannon Street, E.C., and whose works are at Kingston Mill, Bradfordon-Avon, intends to show Spencer-Moulton tires in four types, viz., plain, threeribbed, grooved and steel-studded. In addition, the company will show its detachable and divided rim, its detachable flanged rim, and various specimens of tubing, robber bags, patches, matting and hose.
Swain.
Messrs. Leo. Swain and Co., of 237239. Deausgate, Manchester, which firm holds the district agencies for the Parsons Non-Skid Co,, Blerint lamps, Polack a.T. speedometers and the AutoIoc patents, will for the first time include the H! pilot enminercial-vehicle tire.
Temple Press.
Tue COMMERCIAL MOTOR will be on sale here, and the second Show issue, dated the 22nd inst., will be available early in the afternoon of Wednesday in Show week.
Vandervell.
Messrs. C. A. Vandervell and Cs., of Warple Way. Acton Vale, London. W., will show their dynamo lighting system, as applied to motorbuses and other public-service vehicles, arid for use in connection with illuminated signs. Smaller dynamo outfits, adapted for taxicabs, will also be shown.
Wakefield.
Messrs. C. C. Wakefield and Co., of 27. Cannon Stre,t London. EC.. will
be showing Castrol motor lubricants and other grades of motor oils for commercial-motor vehicles. They will also be showing the Carbic light..
Warland Rim.
The Warland Dual Rim Co., Ltd.; of Alma Street, Aston, Birmingham, and 101, Great Portland Street, London, W., will show its dual detachable and contractile rim, suitable for fitting to wood, wire and steel wheels, and for removal without a. lever, in various dimensions.
Wolf.
Messrs. S. Wolf and Co., of 115, Southwark Street, London, SE., will make a distinctive show with the following : Sulex carburetters; U.H. magnetos ; S.R.O. ball races ; Cleophone, electric horns; Saucer sparking plugs, and eketrio drilling machines.
Wood-Milne.
Wood-Milne, Ltd., of Ribble Bank Mills, Preston, will provide a stand that cannot fail to be a centre of attraction, in view of the great amount of attention which has recently been drawn to its special products, The Wood-Milne tires exhibited will be of the solid, hand and pneumatic types, whilst inner tubes, covers and belting will also be shown. A special accessory here will be the WoodMilne foot pump, priced at only 47s. ficl. inclusive of gauge. It is designed to inflate pneumatic tires in the shortest time with the least exertion, and the special feature is that the muscles of the leg and thigh are employed to pump up any tire, while either foot can be used at will.