News and Comment.
8th February 1912
Page 10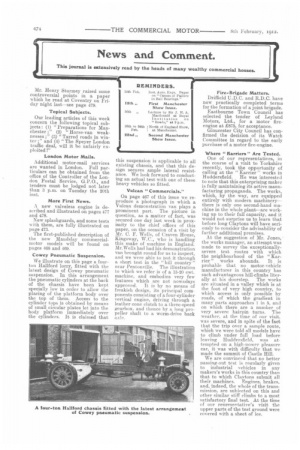 Page 10, 8th February 1912 —
News and Comment.
Close
Mr. Henry Sturmey raised some controversial points in a paper which he read at Coventry on Friday night last—see page 479.
Topical Subjects.
Our leading articles of this week concern the following topical subjects: (1) "Preparations for Manchester ;" (2) "Horse-van weaknesses ;" (3) "Tarred roads in winter;" and (4) "The Speyer London traffic deal, will it be unfairly exploited?"
London Motor Mails.
Additional motor-mail services are wanted in London. Full particulars can be obtained from the office of the Controller of the London Postal Service, G.P.O., and tenders must be lodged not later than 3 p.m. on Tuesday the 20th inst.
More First News.
A new valveless engine is described and illustrated on pages 477 and 478.
New splashguards, and some tests with them, are fully illustrated on page 473.
The first-published description of the new Maudslay commercialmotor models will be found on pages 468 and 469.
Cowey Pneumatic Suspension.
We illustrate on this page a fourton Hallford lorry, fitted with the latest design of Cowey pneumatic suspension. In this arrangement the pneumatic cylinders at the back of the chassis have been kept specially low in order to allow the placing of the platform body over the top of them. Access to the cylinder tops is obtained by means of small circular plates let into the body platform immediately over the cylinders. It is claimed that this suspension is applicable to all existing chassis, and that this design secures ample lateral resistance. We look forward to conducting an actual test with one of these heavy vehicles so fitted.
Vulcan "Commercials."
On page 467 of this issue we reproduce a photograph in which a Vulcan demonstration van plays a prominent part. The picture in question, as a matter of fact, was secured one day last week in proxiraity to the chief offices of this paper, on the occasion of a visit by Mr. C. F. Wells, of Craven House, Kingsway, W.C., who is handling this make of machine in England. Mr. Wells had had his demonstration van brought round for us to inspect, and we were able to put it through a short test in the "hill country" near Pentonville. The illustration to which we refer is of a 15-20 cwt. machine, and embodies very few features which are not nowadays approved. It is by no means of freakish design, its principal components consisting of a four-cylinder vertical engine, driving through a leather cone clutch to a three-speed gearbox, and thence by a long propeller shaft to a worm-drive back axle. Fire-Brigade Matters.
Driffield U.D.C. and R.D.C. have now practically completed terms for the formation of a joint brigade.
Eastbourne Town Council has selected the tender of Leyland Motors, Ltd., for a motor fireengine at £875, for acceptance.
Gloucester City Council has confirmed the decision of its Watch Committee in regard to the early purchase of a motor fire-engine.
Where " Karriers" Are Tested.
One of our representatives, in the course of a visit to Yorkshire recently, took the opportunity of calling at the " Karrier " works in Huddersfield. He was interested to note that this enterprising maker is fully maintaining its active manufacturing propaganda. The works, which, by the way, are equipped entirely with modern machinery— there is only one second-hand machine in the whole plant—are working up to their full capacity, and it would not surprise us to learn that before long Claytons will have seriously to consider the advisability of further additional premises.
At the suggestion of Mr. Jones, the works manager, an attempt was made to survey the exceptionallysevere test routes with which the neighbourhood of the " Kar rier " works abounds. It is probable that no motor-vehicle manufacturer in this country has such advantageous hill-climbs literally at his doorstep. The works are situated in a valley which is at the foot of very high country, to which access is only possible by roads, of which the gradient in many parts approaches 1 in 5, and on which there are a number of very severe hairpin turns. The weather, at the time of our visit, was severe, and in spite of the fact that the trip over a sample route, which we were told all models have to climb under full load before leaving Huddersfield, was attempted on a high-newer pleasure car, it was with difficulty that we made the summit of Castle Hill.
We are convinced that no better passing-out test is regularly given to industrial vehicles in any makers's works in this country than that to which Cla..vtons submit all their machines. Engines, brakes, and, indeed, the whole of the transmission, are subjected on this and other similar stiff climbs to a most satisfactory final test. At the time of our representative's visit the upper parts of the test ground were covered with a sheet of ice.