Tinnelly fined £10k for risking the lives of ferry passengers
8th December 2011
Page 6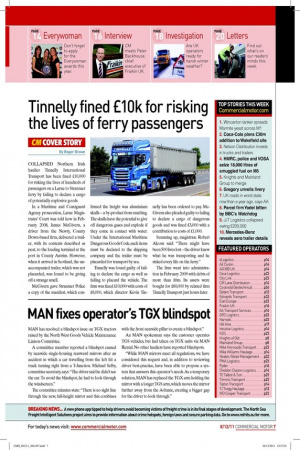 Page 6, 8th December 2011 —
Tinnelly fined £10k for risking the lives of ferry passengers
Close
Keywords :
Dumfries And Galloway
,
Shipping
,
Dangerous Goods
,
Safety
,
Mcgivern
,
Larne
,
Stranraer
,
Institut National D'études Démographiques
,
Cargo
,
Trailer
,
Technology
,
Transport
,
Disaster / Accident
By Roger Brown
COLLAPSED Northern Irish haulier Tinnelly International Transport has been ined £10,000 for risking the lives of hundreds of passengers on a Larne to Stranraer ferry by failing to declare a cargo of potentially explosive goods.
In a Maritime and Coastguard Agency prosecution, Larne Magistrates' Court was told how in February 2008, James McGivern, a driver from the Newry, County Down-based irm, delivered a trailer, with its contents described as peat, to the loading terminal at the port in County Antrim. However, when it arrived in Scotland, the unaccompanied trailer, which was not placarded, was found to be giving off a strange smell.
McGivern gave Stranraer Police a copy of the manifest, which con irmed the freight was aluminium skulls – a by-product from smelting. The skulls have the potential to give off dangerous gases and explode if they come in contact with water. Under the International Maritime Dangerous Goods Code, such items must be declared to the shipping company and the trailer must be placarded for transport by sea.
Tinnelly was found guilty of failing to declare the cargo as well as failing to placard the vehicle. The irm was ined £10,000 with costs of £6,000, which director Kevin Tin nelly has been ordered to pay. McGivern also pleaded guilty to failing to declare a cargo of dangerous goods and was ined £3,000 with a contribution to costs of £1,000.
Summing up, magistrate Robert Alcorn said: "There might have been 500 lives lost – the driver knew what he was transporting and he risked every life on the ferry." The irm went into administration in February 2009 with debts of more than £6m. Its assets were bought for £60,000 by related irm Tinnelly Transport just hours later.