URTU has Driver CPC approval withdrawn
8th December 2011
Page 5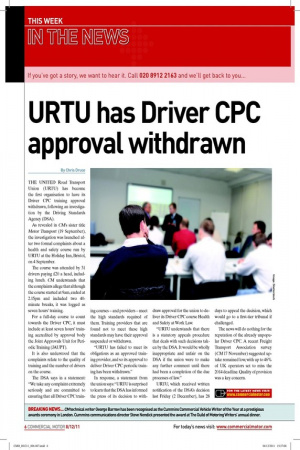 Page 5, 8th December 2011 —
URTU has Driver CPC approval withdrawn
Close
By Chris Druce THE UNITED Road Transport Union (URTU) has become the irst organisation to have its Driver CPC training approval withdrawn, following an investigation by the Driving Standards Agency (DSA).
As revealed in CM's sister title Motor Transport (19 September), the investigation was launched after two formal complaints about a health and safety course run by URTU at the Holiday Inn, Bristol, on 4 September.
The course was attended by 31 drivers paying £20 a head, including lunch. CM understands that the complaints allege that although the course started at 9am, ended at 2.15pm and included two 40minute breaks, it was logged as seven hours' training.
For a full-day course to count towards the Driver CPC, it must include at least seven hours' training accredited by approval body the Joint Approvals Unit for Periodic Training (JAUPT).
It is also understood that the complaints relate to the quality of training and the number of drivers on the course.
The DSA says in a statement: "We take any complaint extremely seriously and are committed to ensuring that all Driver CPC train
ing courses – and providers – meet the high standards required of them. Training providers that are found not to meet these high standards may have their approval suspended or withdrawn.
"URTU has failed to meet its obligations as an approved training provider, and so its approval to deliver Driver CPC periodic training has been withdrawn."
In response, a statement from the union says: "URTU is surprised to learn that the DSA has informed the press of its decision to with
draw approval for the union to deliver its Driver CPC course Health and Safety at Work Law.
"URTU understands that there is a statutory appeals procedure that deals with such decisions taken by the DSA. It would be wholly inappropriate and unfair on the DSA if the union were to make any further comment until there had been a completion of the due processes of law." URTU, which received written notiication of the DSA's decision last Friday (2 December), has 28 days to appeal the decision, which would go to a irst-tier tribunal if challenged.
The news will do nothing for the reputation of the already unpopular Driver CPC. A recent Freight Transport Association survey (CM 17 November) suggested uptake remained low, with up to 46% of UK operators set to miss the 2014 deadline. Quality of provision was a key concern.
FOR THE LATEST NEWS VISIT:
www.commercialmotor.com