And another thing...
8th December 2011
Page 2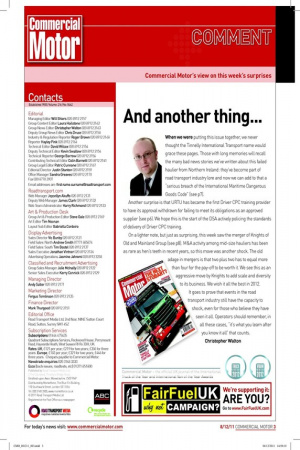 Page 2, 8th December 2011 —
And another thing...
Close
When we were putting this issue together, we never thought the Tinnelly International Transport name would grace these pages. Those with long memories will recall the many bad news stories we've written about this failed haulier from Northern Ireland: they've become part of road transport industry lore and now we can add to that a "serious breach of the International Maritime Dangerous Goods Code" (see p7).
Another surprise is that URTU has became the first Driver CPC training provider to have its approval withdrawn for failing to meet its obligations as an approved supplier (see p6). We hope this is the start of the DSA actively policing the standards of delivery of Driver CPC training.
On a lighter note, but just as surprising, this week saw the merger of Knights of Old and Mainland Group (see p8). M&A activity among mid-size hauliers has been as rare as hen's teeth in recent years, so this move was another shock. The old adage in mergers is that two plus two has to equal more than four for the pay-off to be worth it. We see this as an aggressive move by Knights to add scale and diversity to its business. We wish it all the best in 2012. It goes to prove that events in the road transport industry still have the capacity to shock, even for those who believe they have seen it all. Operators should remember, in
all these cases, "it's what you learn after you know it all" that counts. Christopher Walton