The high price of death
8th December 2011
Page 17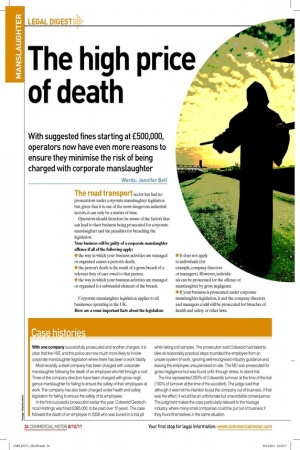 Page 18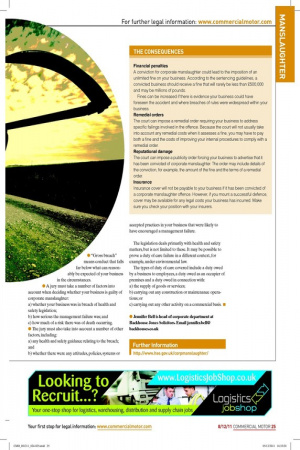 Page 17, 8th December 2011 —
The high price of death
Close
Keywords :
English Criminal Law
,
Law
,
Manslaughter
,
Criminal Law
,
Corporate Crime
,
Crime
,
United Kingdom Company Law
,
Corporate Manslaughter
,
Manslaughter In English Law
,
Corporate Manslaughter And Corporate Homicide Act
,
Criminal Negligence
,
Business / Finance
,
Disaster / Accident
,
Law / Crime
With suggested fines starting at £500,000, operators now have even more reasons to ensure they minimise the risk of being charged with corporate manslaughter
Words: Jennifer Bell
The road transport sector has had no prosecutions under corporate manslaughter legislation but, given that it is one of the most dangerous industrial sectors, it can only be a matter of time.
Operators should therefore be aware of the factors that can lead to their business being prosecuted for corporate manslaughter and the penalties for breaching the legislation.
Your business will be guilty of a corporate manslaughter offence if all of the following apply: ● the way in which your business activities are managed or organised causes a person's death; ● the person's death is the result of a gross breach of a relevant duty of care owed to that person; ● the way in which your business activities are managed or organised is a substantial element of the breach.
Corporate manslaughter legislation applies to all businesses operating in the UK.
Here are a some important facts about the legislation: ● It does not apply to individuals (for example, company directors or managers). However, individu als can be prosecuted for the offence of manslaughter by gross negligence.
● If your business is prosecuted under corporate manslaughter legislation, it and the company directors and managers could still be prosecuted for breaches of health and safety or other laws. ● "Gross breach" means conduct that falls far below what can reasonably be expected of your business in the circumstances.
● A jury must take a number of factors into account when deciding whether your business is guilty of corporate manslaughter: a) whether your business was in breach of health and safety legislation; b) how serious the management failure was; and c) how much of a risk there was of death occurring.
● The jury must also take into account a number of other factors, including: a) any health and safety guidance relating to the breach; and b) whether there were any attitudes, policies, systems or accepted practices in your business that were likely to have encouraged a management failure.
The legislation deals primarily with health and safety matters, but is not limited to these. It may be possible to prove a duty of care failure in a different context, for example, under environmental law.
The types of duty of care covered include a duty owed by a business to employees, a duty owed as an occupier of premises and a duty owed in connection with: a) the supply of goods or services; b) carrying out any construction or maintenance operations; or c) carrying out any other activity on a commercial basis. ■