Keeping it in-house
8th December 2011
Page 10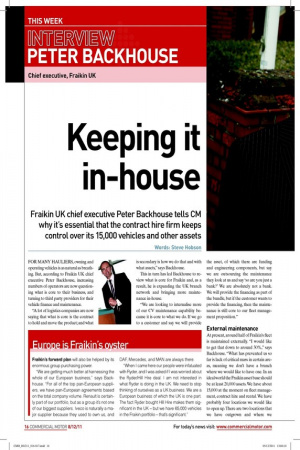 Page 11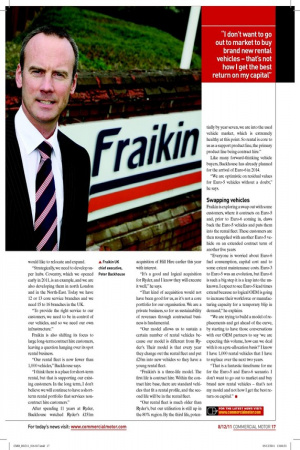 Page 10, 8th December 2011 —
Keeping it in-house
Close
Keywords :
Property
,
Renting
,
Government Procurement In The United States
,
Leet
,
Euro
,
Today
,
Ryder
,
Economics
,
Humanities
,
Europe
,
Business / Finance
Fraikin UK chief executive Peter Backhouse tells CM why it's essential that the contract hire firm keeps control over its 15,000 vehicles and other assets
Words: Steve Hobson
FOR MANY HAULIERS, owning and operating vehicles is as natural as breathing. But, according to Fraikin UK chief executive Peter Backhouse, increasing numbers of operators are now questioning what is core to their business, and turning to third party providers for their vehicle inance and maintenance.
"A lot of logistics companies are now saying that what is core is the contract to hold and move the product; and what is secondary is how we do that and with what assets," says Backhouse.
This in turn has led Backhouse to review what is core for Fraikin and, as a result, he is expanding the UK branch network and bringing more maintenance in-house.
"We are looking to internalise more of our CV maintenance capability because it is core to what we do. If we go to a customer and say we will provide the asset, of which there are funding and engineering components, but say we are outsourcing the maintenance they look at us and say 'so are you just a bank?' We are absolutely not a bank. We will provide the inancing as part of the bundle, but if the customer wants to provide the inancing, then the maintenance is still core to our leet management proposition."
External maintenance
At present, around half of Fraikin's leet is maintained externally. "I would like to get that down to around 30%," says Backhouse. "What has prevented us so far is lack of critical mass in certain areas, meaning we don't have a branch where we would like to have one. In an ideal world the Fraikin asset base should be at least 20,000 assets. We have about 15,000 at the moment on leet management, contract hire and rental. We have probably four locations we would like to open up. There are two locations that we have outgrown and where we would like to relocate and expand.
"Strategically, we need to develop super hubs. Coventry, which we opened early in 2011, is an example, and we are also developing them in north London and in the North-East. Today we have 12 or 13 core service branches and we need 15 to 16 branches in the UK.
"To provide the right service to our customers, we need to be in control of our vehicles, and so we need our own infrastructure." Fraikin is also shifting its focus to large long-term contract hire customers, leaving a question hanging over its spot rental business.
"Our rental leet is now fewer than 1,000 vehicles," Backhouse says.
"I think there is a place for short-term rental, but that is supporting our existing customers. In the long term, I don't believe we will continue to have a shortterm rental portfolio that services noncontract hire customers." After spending 11 years at Ryder, Backhouse watched Ryder's £151m acquisition of Hill Hire earlier this year with interest.
"It's a good and logical acquisition for Ryder, and I know they will execute it well," he says.
"That kind of acquisition would not have been good for us, as it's not a core portfolio for our organisation. We are a private business, so for us sustainability of revenues through contractual business is fundamental.
"Our model allows us to sustain a certain number of rental vehicles because our model is different from Ryder's. Their model is that every year they change out the rental leet and put £20m into new vehicles so they have a young rental leet.
"Fraikin's is a three-life model. The irst life is contract hire. Within the contract hire base, there are standard vehicles that it a rental proile, and the second life will be in the rental leet.
"Our rental leet is much older than Ryder's, but our utilisation is still up in the 80% region. By the third life, poten
tially by year seven, we are into the used vehicle market, which is extremely healthy at this point. So rental is core to us as a support product line, the primary product line being contract hire." Like many forward-thinking vehicle buyers, Backhouse has already planned for the arrival of Euro-6 in 2014.
"We are optimistic on residual values for Euro-5 vehicles without a doubt," he says.
Swapping vehicles
Fraikin is exploring a swap out with some customers, where it contracts on Euro-5 and, prior to Euro-6 coming in, claws back the Euro-5 vehicles and puts them into the rental leet. These customers are then resupplied with another Euro-5 vehicle on an extended contract term of another ive years.
"Everyone is worried about Euro-6 fuel consumption, capital cost and to some extent maintenance costs. Euro-3 to Euro-5 was an evolution, but Euro-6 is such a big step it is a leap into the unknown. I expect to see Euro-5 lead times extend because no logical OEM is going to increase their workforce or manufacturing capacity for a temporary blip in demand," he explains.
"We are trying to build a model of replacements and get ahead of the curve, by starting to have those conversations with our OEM partners to say 'we are expecting this volume, how can we deal with it on a pre-allocation basis?' I know I have 1,000 rental vehicles that I have to replace over the next two years.
"That is a fantastic timeframe for me for the Euro-5 and Euro-6 scenario. I don't want to go out to market and buy brand new rental vehicles – that's not my model and not how I get the best return on capital." n
FOR THE LATEST NEWS VISIT:
www.commercialmotor.com