Behind the Veil of the Soviet
8th December 1933
Page 52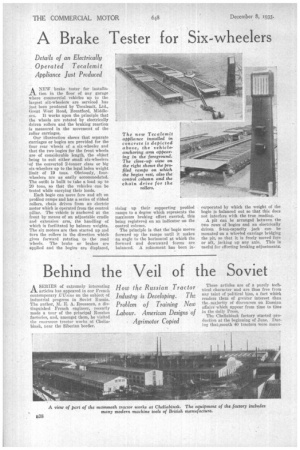 Page 53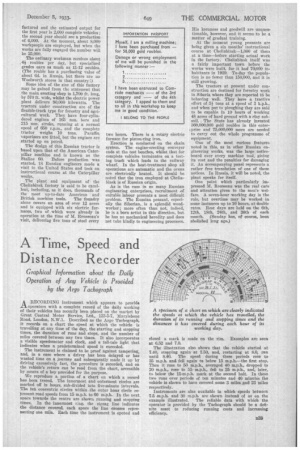 Page 52, 8th December 1933 —
Behind the Veil of the Soviet
Close
How the Russian Tractor industry is Developing. The Problem of Training New Labour. American Designs of Agrimotor Copied
ASERIES of extremely interesting articles has appeared in our French contemporary L'Utine on the subject of industrial progress in Soviet Russia. The author, M. E. A. Rousseau, a distinguished French engineer, recently made a tour of the principal Russian factories, and, amongst them, he visited the enurmous tractor works at Cheliabinsk, near the Siberian border.
These articles are of a purely technical character and are thus free from any taint of political bias, a fact which renders them of greater interest than the _majority of discourses on Russian affairs which appear from time to time in the daily Press.
The Cheliabinsk factory started production at the beginning of June. During that>month 40 tractors were manti
factured and the estimated output for the first year is 2,000 complete vehicles ; the second year should see a production of 6,000. At she moment, about 8,000 work-people are employed, but when the works are fully engaged the number will be 25,000.
The ordinary workman receives about 41 roubles per day, but specialized grades earn as much as 11-12 roubles. (The rouble has a purchasing value of about 6d. in Russia, but there are no Woolworth stores in that country L) Some idea of the size of this factory may be gained from the statement that the main erecting shop is 1,700 ft. long, by 570 ft. wide, whilst the electric power plant delivers 90,000 kilowatts. The tractors under construction are of the flexible-track type for forestry and agricultural work. They have four-utile. dared engines of 165 mm. bore and 215 mm. stroke, running at a normal speed of 650 r.p.m., and the complete tractor weighs 10 tons. Paraffin vaporizers are fitted, but the engines are started up on petrcil.
The design of this Russian tractor is based upon that of the American Caterpillar machine and is known as the Staline 60. Before production was started, 18 Russian engineers made a visit to the United States and took an instructional course at the Caterpillar works.
The plant and equipment of the Cheliabinsk fuctory is said to be excellent, including, as it does, thousands of the most up-to-date American and British machine tools. The foundry alone covers an area of over 12 acres and is equipped with six electric furnaces, two of which were already in operation at the time of M. Rousseau's visit, delivering five tons of steel every two hours. There is a rotary electric furnace for piston-ring iron.
Erection is conducted on the chain system. The engine-erecting conveyer ends at the test benches, whilst that for complete vehicles terminates on a testing track which leads to the railway wharf. In the heat-treatment shop all operations are automatic and the ovens are electrically heated. It should be. noted that the iron employed at Cheliabinsk is of Russian origin.
As is the case in so many Russian engineering enterprises, recruitment of suitable labour presents a most difficult Problem. The Russian peasant, especially the Siberian, is a splendid woodworker ; more often than not, indeed, he is a born artist in this direction, but he has no mechanical heredity and does not take kindly to engineering processes. His keenness and goodwill are unquestionable, however, and it seems to be a matter of gradual training.
At the moment young peasants are being given a six months' instructional course at Cheliabinsk-1,000 of them at a time—before starting actual work in the factory. Cheliabinsk itself was a fairly important town before the works were built, for it had 70,000 inhabitants in 1929. To-day the population is no fewer than 150,000, and it is still growing.
The tractors at present under construction are destined for forestry work in Siberia where they are reported to be behaving well. They have a tractive effort of 31 tons at a speed of 3 k.p.h., and when put to ploughingthey are said to be capable in la hours of workiug 48 acres of hard ground with a clay subsoil. The State has already invested 360,000,000 gold roubles in this enteriprise and 75,000,000 more are needed to carry out the whole programme of equipment.
One of the most curious features noted in this, as in other Russian engineering works, was the large noticeboard over every machine tool, giving its cost and the penalties for damaging it. An accompanying panel represents a rather free translation of one of these notices. In Russia, it will be noted, the plant speaks for itself.
One point which particularly impressed M. Rousseau was the real care and attention given to the men's welfare. A seven-hour working day is the rule, but overtime may be worked in some instances up to 10 hours, at double rates. Rest days are held On the 6th, 12th, 18th. 24th, and 30th of each month. (Sunday has, of course, been abolished long ago.)