A Simple Oil Retainer
8th December 1933
Page 48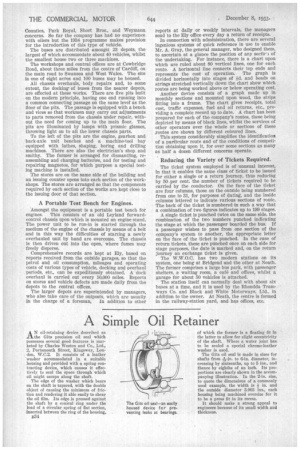 Page 48, 8th December 1933 —
A Simple Oil Retainer
Close
AN oil-retaining device described as the Gits precision oil seal which possesses several good features is marketed by Charles Weston and Co., Ltd., 2, Portsmouth Street, Kingsway, London, W.C.2. It consists of a leather washer accommodated in a suitable housing and provided with a spring contracting device, which causes it effectively to seal the space through which oil might escape along the shaft.
The edge of the washer which bears on the shaft is tapered, with the double object of causing the minimum of friction and rendering it able easily to shear the oil film. Its edge is pressed against the shaft by a conical ring under the load of a circular spring of flat section, inserted between the ring of the housing,
s34 of which the former is a floating fit in the latter to allow for slight eccentricity of the shaft. Where a water joint has to be sealed a special chrome-leather washer is used.
The Gits oil seal is made in sizes for
shafts from to 6-in, diameter, increasing by sixteenths, up to 5 ins., and thence by eighths of an inch. Its proportions are dearly shown in the accompanying illustration. In the 2-in, size, to quote the dimensions of a commonly
used example, the width is in. and the outside diameter 3.003 ins., each housing being machined oversize for it to be a press fit in its recess.
It should make a strong appeal to engineers because of its small width and thickness.