Special Features of This Issue
8th December 1933
Page 32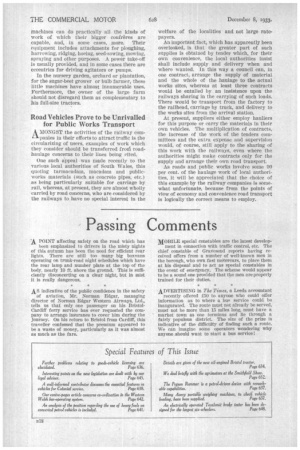 Page 33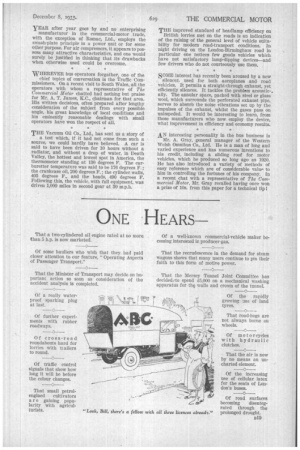 Page 32, 8th December 1933 —
Special Features of This Issue
Close
Further problems rotating to goods-vehicle licensing are
elucidated. Page 636.
Interesting points on the new legislation are dealt with by our
legal adviser. Page 645.
A well-informed contributor discusses the essential features in
vehicles for Colonial service. Page 638.
Our centre-pages article concerns co-ordination in the Western Welsh bus-operating system. Page 642,
An analysis ql the position regarding the use of heavy fuels on
converted petrol vehicles is included. Page 641.
Details are given of the new oil-engined Bristol tractor.
Page 634.
We deal briefly with the cigrimotors at the Smithfield Show.
Page 652.
The Pegson Rammer is a petrol-driven device with remark
able capabilities. Page 637.
Many Avery portable weighing machines, to check vehicle
loading, have been supplied. Page 637.
An electrically operated Tecalemit brake tester has been de
signed for the largest six-wheelers. Page 648.
NEAR after year goes by and no enterprising manufacturer in the commercial-motor trade, with the exception of Romac, Ltd., employs the swash-plate principle in a power unit or for some other purpose. For air compressors, it appears to possess many attractive characteristics, and one would surely be justified in thinking that its drawbacks when otherwise used could be overcome.
WHEREVER bus operators forgather, one of the chief topics of conversation is the Traffic Commissioners. On a recent visit to South Wales, all the operators with whom a representative of The Commercial Motor chatted had nothing but praise for Mr. A. T. James, K.C., chairman for that area. His written decisions, often prepared after lengthy consideration of the subject from every possible angle, his great knowledge of local conditions and his eminently reasonable dealings with small operators have won the respect of all.
THE Vacuum Oil Co., Ltd., has sent us a story of a test which, if it had not come from such a source, we could hardly have believed. A car is said to have been driven for 10 hours without a radiator, and without a drop of water, in Death Valley, the hottest and lowest spot in America, the thermometer standing at 130 degrees F. The carburetter temperature was said to be 176 degrees F.; the crankcase oil, 200 degrees F.; the cylinder, walls, 405 degrees F., and the heads, 490 degrees F. Following this, the vehicle, with full equipment, was driven 1,000 miles in second gear at 30 m.p.h. THE improved standard of headlamp efficiency on British lorries met on the roads is an indication of the raising of the general level of vehicle suitability for modern road-transport conditions. In night driving on the London-Birmingham road in particular one notices few goods vehicles which have not satisfactory lamp-dipping devices—and few drivers who do not courteously use them.
SOME interest has recently been aroused by a new silencer, used for both aeroplanes and road vehicles. It permits a straight-through exhaust, yet efficiently silences. It tackles the problem acoustic-. ally. The annular space, packed with steel or glass wool, which surrounds the perforated exhaust pipe, serves to absorb the noise vibrations set up by the Impulses of the exhaust, whilst the gases pass on unimpeded. It would be interesting to learn, from those manufacturers who now employ the device, what improvement in efficiency and economy results.
AN interesting personality in the bus business is Mr. A. Gray, general manager of the Western Welsh Omnibus Co., Ltd. He is a man of long and varied experience and has numerous inventions to his credit, including a sliding roof for motor vehicles, which he produced so long ago as 1920. He has also introduced a variety of methods of easy reference which are of considerable value to him in controlling the fortunes of his company. En a recent chat with a representative of The Commercial Motor, Mr. Gray recalled having once won a prize of 10s. from this paper for a technical tip!