Knowledge Which is Essential
8th December 1933
Page 31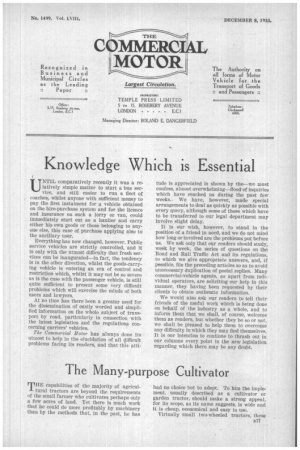 Page 31, 8th December 1933 —
Knowledge Which is Essential
Close
UNTIL comparatively recently it was a relatively simple matter to start a bus service, and still easier to run a fleet of coaches, whilst anyone with sufficient money to pay the first instalment for a vehicle obtained on the hire-purchase system and for the licence and insurance on such a lorry or Tan, could immediately start out as a haulier and carry either his own goods or those belonging to anyone else, this ease of purchase applying also to the ancillary user.
Everything has now changed, however. Public service vehicles are strictly controlled, and it is only with the utmost difficulty that fresh services can be inaugurated—in fact, the tendency is in the other direction, whilst the goods-carrying vehicle is entering an era of control and restriction which, whilst it may not be so severe as is the case with the passenger vehicle, is still quite sufficient to present some very difficult problems which will exercise the minds of both users and lawyers.
At no time has there been a greater need for the dissemination of easily worded and simplified information on the whole subject of transport by road, particularly in connection with the latest legislation and the regulations concerning carriers' vehicles.
The Commercial Motor has always done its utmost to help in the elucidation of all difficult problems facing its readers, and that this atti tilde is appreciated is shown by the—we must confess, almost overwhelming—flood of inquiries which have reached us during the past few weeks. We have, however, made special arrangements to deal as quickly as possible with every query, although some of those which have to be transferred to our legal department may Involve slight delay.
It is our wish, however, to stand in the position of a friend in need, and we do not mind how tong or involved are the problems put before us. We ask only that our readers should study, week by week, the series of questions on the Road and Rail Traffic Act and its regulations, to which we give appropriate answers, and, if pessible, file the preceding articles so as to avoid unnecessary duplication of postal replies. Many commercial-vehicle agents, as apart from individual operators, are soliciting our help in this manner, they having been requested by their clients to obtain authentic information.
We would also ask our readers to tell their friends of the useful work which is being done on behalf of the industry as a whole, and to inform them that we shall, of course, welcome them as readers, but whether they be so or not, we shall be pleased to help them to overcome any difficulty in which they may find themselves. It is our intention to continue to thrash out in our columns every point in the new legislation regarding which there may be any doubt.