A Chevrolet 1.tonner Under Test.
8th December 1925
Page 5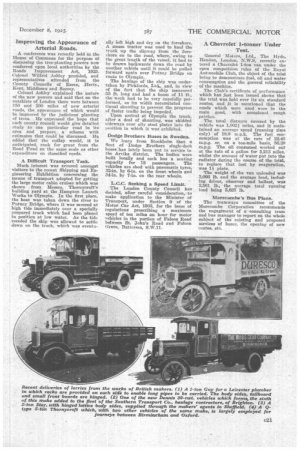 Page 5, 8th December 1925 —
A Chevrolet 1.tonner Under Test.
Close
General Motors, Ltd., The Hyde, Hendon, London, N.W.9, recently entered a Chevrolet 1-ton van under the open competition rules of the Royal Automobile Club, the object of the trial being to demonstrate fuel, oil and water consumption and the general reliability of the machine.
The Club's certificate of performance which has just been issued shows that the trial was held over its six standard routes, and it is mentioned that the roads which were used were in the main good, with occasional rough patches.
The total distance covered by the vehicle was 1,0021 miles, and it maintained an average speed (running time only) of 19.9 m.p.h. The fuel consumption was at the rate of 22.45 m.p.g. or, on a ton-mile basis, 56.39 m.p.g. The oil consumed worked out at the rate of a gallon for 3,213 miles, whilst the amount of water put into the radiator during the course of the trial, to replace that lost by evaporation, was 1 pints.
The weight of the van unloaded was 3,066 lb. and the average load, including driver, observer and ballast, was 2,561 lb., the average total running load being 5,627 lb.