The 30-cwt. H.I.C. Truck (Trailer).
8th December 1925
Page 30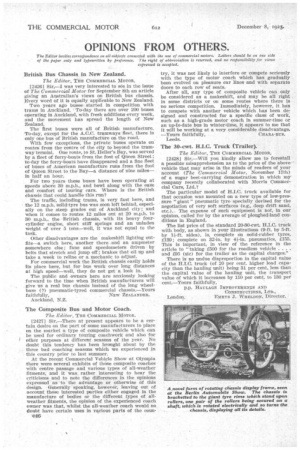 Page 30, 8th December 1925 —
The 30-cwt. H.I.C. Truck (Trailer).
Close
The Editor, THE COMMERCIAL MOTOR.
[2428] Sir,—Will you kindly allow me to forestall a possible misapprehension as to the price of the above ' vehicle that may arise in the minds of readers of your account (The Commercial Motor, November 17th) of a sugar beet-carrying demonstration in which my company recently collaborated with Morris Commercial Cars, Ltd.?
The particular model of 11.1.0. truck available for that occasion was mounted on a new type of low-pressure " giant " pneumatic tyre specially devised for the negotiation of very soft surfaces (e.g., deep drift sand, etc.).. The expense of such equipment is not, in our opinion, called for by the average of ploughed-land conditions in England.
The list price of the standard 20-30-cwt. truck with body, as shown in your illustrations (9-ft. by 5-ft. by 11-ft. sides), is, complete on solid-rubber tyres, £139; complete on 32-in. by 4i-in. pneumatics, £155. This is important, in view of the reference in the article to "taking £500 for the roadless vehicle . . . and £95 (sic) for the trailer as the capital charges."
There is no undue disproportion in the capital value of the 11.1.0. truck (of 20 per cent. higher load capacity than the hauling unit) being 31 per cent, less than the capital value of the hauling unit, the transport value of which it increases by 110 per cent. to 330 per cent.—Yours faithfully, p.p. HAULAGE iMPROVEMENP5 AND
CONSTRUCTIONS, LTD.,
London. F■MRYS J. WHELDON, Director.