British Bus Chassis in New Zealand.
8th December 1925
Page 30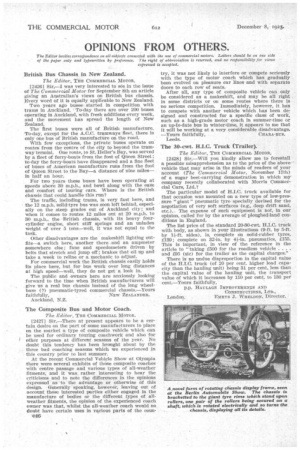 Page 30, 8th December 1925 —
British Bus Chassis in New Zealand.
Close
The Editor, TEE COMMERCIAL MOTOR.
[24261 Sir,—I was very interested to see in the issue of The Commercial Motor for September 8th an article giving an Australian's views on British bus chassis. Every word of it is equally applicable to New Zealand,.
Two years ago buses started in competition with trams in Auckland. ' To-day there are over 200 buses operating in Auckland, with fresh additions every week, and the movement has spread the length of New Zealand.
The first buses were all of British manufacture. To-day, except for the A.C.C. tramways fleet, there is only one bus of British manufacture on the road.
With few exceptions, the private buses operate on routes from the centre of the city to beyond the tramway termini. One route, to St. Helier's Bay, was served by a fleet of ferry-boats from the foot of Queen Street; today the ferry-boats have disappeared and a fine fleet of buses of American manufacture runs from the foot of Queen Street to the Bay—a distance of nine miles— in half an hour.
For two Tears these buses have been operating at speeds above 30 m.p.h., and bowl along with the ease and comfort of touring cars. Where is the British chassis that could handle this rim?
The traffic, including trams, is very fast here, and the 12 m.p.h. solid-tyre bus was soon left behind, especially on the steep grades out of Auckland city ; and when it comes to routes 12 miles out at 20 m.p.h. to 30 m.p.h., the -British chassis, with its heavy fourcylinder engine, short stiff springs and an unladen weight of over 5 touswell, it was not equal to the task.
Other disadvantages are the makeshift lighting outfits—a, switch here, another there and an ampmeter somewhere else ; fans and speedometers driven by belts that stretch and jump off ; brakes that oil up and take a week to reline or a mechanic to adjust.
For commercial work the British chassis easily holds its place here, but for bus work over long distances at high speed—well, they do not get a look in.
The public and owners here are anxiously looking forward to the time when British manufacturers will give us a real bus chassis instead of the long wheelbase ( ?) pneumatic-tyred commercial chassis.—Yours faithfully, NEW ZEALANDER. Auckland, N.Z.