PROBLEMS OF THE HAULIER AND CARRIER.
8th December 1925
Page 28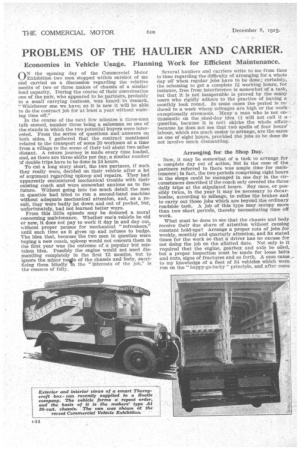 Page 29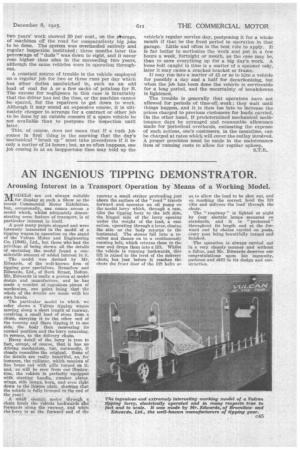 Page 28, 8th December 1925 —
PROBLEMS OF THE HAULIER AND CARRIER.
Close
Economies in Vehicle Usage. Planning Work for Efficient Maintenance.
ON the opening day of the Commercial Motor Exhibition two men stopped within earshot of me and carried on a discussion regarding the relative merits of two or three makes of chassis of a similar load capacity. During the course of their conversation one of the pair, who appeared to be partners, probably in a small carrying business, was heard to remark, " Whichever one we have, as it is new it will be able to do the contract job for at least a year without wanting time off."
In the course of the next few minutes a three-man talk ensued, number three being a salesman on one of the stands in which the two potential buyers were interested. From the series of questions and answers on both sides, I gathered that the contract mentioned related to the transport of some 20 workmen at a time from a village to the scene of their toil about two miles distant. A return journey is made every time loaded, and, as there are three shifts per day, a similar number If double trips have to be done in 24 hours.
To cut a long story short, the two partners, if such they really were, decided on their vehicle after a lot of argument regarding upkeep and repairs. They had apparently encountered mechanical trouble with their existing coach and were somewhat anxious as to the future. Without going into too much detail the men in question had tried to run a second-hand machine without adequate mechanical attention, and, as a result, they were badly let down and out of pocket, but, unfortunately, had not learned better ways.
From this little episode may be deduced a moral concerning maintenance. Whether one's vehicle be old or new, it does not pay to work it day in and day out, without proper pauses for mechanical "refreshers," until such time as it gives up and refuses to budge. The idea that, because the two men in question were buying a new coach, upkeep would not concern them in the first year was the outcome of a popular but mistaken idea. Possibly the engine would not need dismantling completely in the first 12 months, but to ignore the minor news of the chassis and body, sacrificing them blindly In the "interests of the job," is the essence of folly. Several hauliers and carriers write to me from time to time regarding the difficulty of arranging for a whole day off when regular jobs have to be done ; certainly, the scheming to get a complete 12 working hours, for instance, free from interference is somewhat of a task, but that it is not insuperable is proved by the many users who rigidly adhere to the practice of having a monthly look round. In some cases the period is reduced to a week wher,e mileages are high or the work exceptionally strenuous. Many a man who is not enthusiastic on the shed-day idea (I will not call it a question, because it is not) shirks the whole affair because he does not see that twb spells of four hours' labour, which ere much easier to arrange, are the same as one of eight herars, provided the jobs to be done do not involve much dismantling.
Arranging for the Shop Day.
Now, it may be somewhat of a task to arrange for a complete day out of action, but in the case of the partners referred to there was ample time for maintenance-; in fact, the two periods comprising eight hours in the shops could be managed in one day in the circumstances described if the coach only covered the three daily trips at the stipulated hours. Say once, or possibly twice, in the year it may be necessary to decarbonize, according to mileage, to reline the brakes and to carry out those jobs which are beyond the ordinary roadside task. A job of this type may occupy more than two short periods, thereby necessitating time off work.
What must be done to see that the chassis and body receive their due share of attention without Causing constant hold-ups? Arrange a proper rota of jobs for weekly, monthly and quarterly attention, and fix stated times for the work so that a driver has no excuse for not doing the job on the allotted date. Not only is it required that the engine, gearbox and axle be oiled, but a proper inspection must be made for loose bolts and nuts, signs of fractures and so forth. A case came to my knowledge of a fleet of 34 vehicles which were run on the " happy-go-lucky " principle, and after some
two years' work showed 30 per cent., on the aterage, of machines off the road for comparatively big jobs to be done. The system was overhauled entirely and regular inspection instituted ; three months later the percentage of " duds " was down to eight, and it never rose higher than nine in the succeeding two years, although the same vehicles were in operation throughout.
A constant source of trouble is the vehicle employed on a regular job for two or three runs per day which has other duties sandwiched in, such as an odd load of coal for A or a few sacks of potatoes for B. The excuse for negligence in this case is invariably that the driver has not the Lime, or the machine cannot be spared, for the repairers to get down to work. Although it may sound an expensive course, it is ultimately cheaper to arrange for a contract or other job to be done by an outside concern if a spare vehicle be not available than to postpone the inspection until later.
This, of course, does not mean that if a rush job comes in first thing in the morning that the day's ' mechanical "brush up" must take precedence if it be only a matter of 24 hours; but, as so often happens, one job coming in at an inopportune time may hold up the vehicle's regular service day, postponing it for a whole month if that be the fixed period in operation in that garage. Little and often is the best rule to apply. It is far better to sectionize the work and put in a few hours a week, fortnight or month, as the ease may be, than to save everything up for a big day's work. A loose bolt caught in time is a matter of a spanner oniy, later It may cause a cracked bracket or frame.
It may run into a matter of £5 or so to hire a vehicle for possibly a day and a half for decarbonizing, but when the job has been done the vehicle is serviceable for a long period, and the uncertainty of breakdowns Is lightened.
The trouble is generally that operators have not allowed for• periods of time-off work ; they wait until things happen, and it is then too late to increase the prices charged to previous customers for loads carried. On the other hand, if predetermined mechanical maintenance days be arranged and reasonable allowance made for periodical overhauls, estimating the expense of such actions, one's customers, in the Meantime, can be charged at rates which will cover_ the outlay involved. A. proper provision must be made in the maintenance item of running costs to allow for regular upkeep.