A PAPER ON SLEEVE-VALVE ENGINES.
8th December 1925
Page 19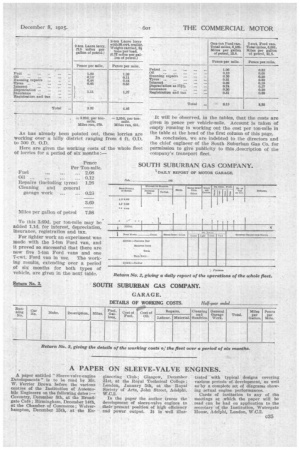 Page 19, 8th December 1925 —
A PAPER ON SLEEVE-VALVE ENGINES.
Close
A paper entitled " Sleeve-vah e-engine Developments" is to be read by Mr. W. Verrier Brown before the various centres of the Institution of Automobile Engineers on the following dates :Coventry, December 8th, at the Broadgate Café ; Birmingham, December 14th, at the Chamber of Commerce ; Wolverhampton, December 15th, at the En
gineering Club ; Glasgow, December 21st, at the Royal Technical College ; London, January 5th, at .the Royal Society of Arts, John Street, Adolph, W.C2.
In the paper the author traces the development of sleeve-valve engines to their present position of high efficiency and power output. It is well illus
trated with typical designs covering various periods of development, as welt as by a complete set of diagrams showing actual engine performances.
Cards of invitation to any of the meetings at which the paper will be read can be had on application to the secretary of the Institution, Watergate House, Adelphi, London, W.C.2.