POSTS FOR WOMEN.
8th August 1918
Page 9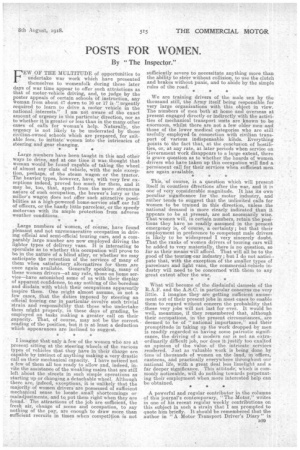 Page 10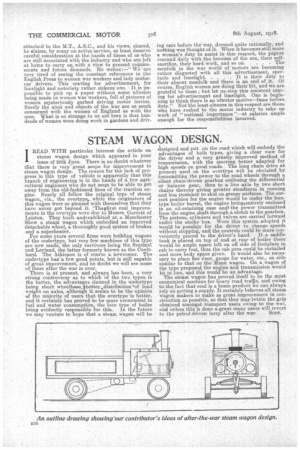 Page 9, 8th August 1918 —
POSTS FOR WOMEN.
Close
By "The Inspector.
FEW OF THE MULTITTJDE of opportunities to undertake war work which have presented themselves to womenfolk during these later days of war time appear to offer such attractions as that of motor-vehicle driving, and, to judge by the poster appeals of certain schools Of instruction, any woman from about 47 down to 16 or 17 is "urgently required to learn to drive a motor vehicle in the national interests." I am not aware of the exact amount of urgency in this particular direction, nor as to whether it is greater or less than in the many other cases of calls for woman's help. Naturally, the urgency is not likely to be underrated by those civilian-owned schools which are prepared, for suitable fees, to initiate' women into the intricacies of steering and gear changing.
Large numbers have been taught in this and other ways to drive, and at one time it was \ thought that woman would be found capable of taking the wheel of almost any claSs of vehicle, with the sole exception, perhaps, of the steam wagon or the tractor. The heavier types, however, have with very few exceptions indeed, proved too much for them, and it may be, too, that, apart from the more strenuous nature of such occupation, the brewer's lorry or the miller's wagon does not offer such attractive possibilities as a high-powered home-service staff car full of officers, or the handy little parcelcar, or the speedy motorvan with its ample protection from adverse weather conditions.
Large numbers of women, of course, have found pleasant and not unremunerative occupation in driving official and semi-official touring cars, and a comparably large number are nowemployed driving the lighter types of delivery vans. It is interesting to speculate as to whether this occupation will prove to be in the nature of a blind alley, or whether we may anticipate the retention of the services of many of them when satisfactory akernatives for them Are once again available. Generally speaking, many of these women drivers—at any rate, those on home service—have astonished some of us with their display of apparent confidence, to say nothing of the boredom and disdain with which their occupations apparently inspire them. One might almost assume, in not a few cases, that the duties imposed by steering an official touring car in particular involve such trivial strain and responsibility that those who undertake them might properly, in these days of grading, be employed on tasks making a greater call on their ,capacity. That, of course, may not be the correct reading of the position, but it is at least a deduction which appearances are inclined to suggest.
I imagine that only few of the women who are at present sitting at the steering wheels of the various types of vehicles that they have in their charge are capable by instinct of anything making a very drastic call on their mechanical capacity. I have noticed not a few of them all too ready to allow and, indeed, invite the assistance of the weakling males that are still left about the streets in such simple operations as starting up or changing a detachable wheel. Although there are, indeed, exceptions, it is unlikely that the majority-of women drivers are possessed of sufficient mechanical sense to locate small shortcomings or maladjustments, and to, put them right when they are found. The attractions of the job are sufficient, the fresh air, change of scene and occupation, to say nothing of the pay, are enough to draw more than sufficient recruits in times when competition is not
sufficiently severe tonecessitate anything more than the ability to steer without collision, to use the clutch and brakes without panic, and to abide by the simple rules of the road.
We are training drivers of the male sex by the thousand still, the Army itself being responsible for very large organizations with this object in view. The numbers of men both at home and overseas at present engaged directly or indirectly with the activities of mechanical transport units are known to be enormous, whilst there are not a few older men and those of the lower medical categories who are still usefully employed in connection with civilian transport of various indispensable kinds. Everything points to the fact that, at the conclusion of hostilities, or, at any rate, at later periods when service on Government work disappears to a large extent, there is grave question as to whether the hoards of women drivers who have taken up this occupation will find a permanent call for their services when sufficient men are again available.
This, of course, is a question which will present itself in countless ditections after the war, and it iq one of very. considerable magnitude. It has its own peculiar -significance for 'the motor industry, and rather tends to suggest that the unlimited calls for women to be trained in this direction, unless the national demand is more clearly indicated than it appears to be at present, are not necessarily wise. That women will, in certain numbers, retain the positions they have so readily assumed in the present emergency is, of course, a. certainty ; but that their employment in preference to competent male drivers is likely to be widespread I very sincerely doubt. That the ranks of women drivers of touring cars will be added to very materially, there is no question, so far as their means will afford. That will all be to the good of the touring-car industry ; but I do not antici-, pate that, with the exception of the smaller types of parcelcars and light vans, the commercial-vehicle industry will need to be concerned with them to any
great extent after the war.
What will become of the disdainful damsels of the R.A.F. and the A.&°. in particular concerns me very little. I imagine they are getting sufficient amusement out of their present jobs in most cases to enable them to regard without concern the probability that -these very jobs will not last for ever. It would be well, meantime, if they rernenabered that, although their occupations, in the present circumstances,. are deemed to be of "national importance," and theirpromptitude in taking up the work dropped by men is readily regarded as having some patriotic significance, the driving of a modern car is not an extraordinarily difficult job, nor does it justify too exalted an opinion of the value of the intricate services rendered. Just as valuable work is being done by tens of thousands of women on the land, in 'offices, canteens, and practically everywhere throughout our national life, with a great deal less limelight and a far deeper significance. This attitude, which is commonly noticeable, will do nothing towards perpetuating their employment when more interested help can be obtained.
A powerful and regular contributor in the columns of this journal's contemporary, "The Motor," writes in one of his recent regular weekly contributions on this subject in such a strain that am prompted to quote him briefly. It should be remenibered that the author in "A Motor Transport Driver's Diary" is attached to the M.T., A.S.C., and his views, shared, he glaims, by many on active service, at least deserve careful consideration at the hands of those of us who are still associated with the industry and who are left at home to carry on,with a view to present requirements and future demands. He writes :—" We are very tired of seeing the constant references in the English Press to women war workers and lady motorcar drivers. This craving for advertisement, for limelight and notoriety rather sickens one. It is impossible to pick up a paper without ,sonie allusion being made to women war workers, full of pictures of women mysteriously garbed driving motor lorries. Surely the aim's. and objects of the war are as much concerned with the women of England as with the men. What is so strange to us out here is that hundreds of women were doing work in gardens and driv
ing cars before the war, dressed quite rationally, and nothing wa,a thought of it. When it becomes still more a woman's duty to assist in this respect, the papers resound daily with the heroism a the sex, their self
sacrifice, their hard work, and so on The menfolk in the war world of motors are becoming rather disgusted with all this advertisement, spec
tacle and limelight. . . . It is their duty to their absent menfolk and there is an end of it. Of course, English women are doing their bit, and we are grateful to them ; but let us-stop this insistent craving for advertisement and limelight. One is be 'nning to think there is an ulterior motive—fame before duty." Not the least sinners in this respect are those who have rushed to the motor industry to take up work of "national importance "—at salaries ample enough for the responsibilities incurred.