Rates for Potatoes and Grain:
8th April 1949
Page 9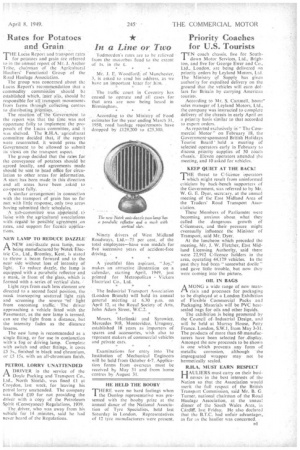 Page 9, 8th April 1949 —
Rates for Potatoes and Grain:
Close
'THE Lucas Report and transport rates. I for potatoes and grain are referred to in the annual report of Mr. J. Archer Tribe, chainnarr of the AgriCtilittral Hauliers' Functional Group of the Road Haulage Association. .
The group was concerned about the, Lucas Report's recommendation that a commodity commis-Sibn" .stiouId
established which, inter alia, should be responsible for 'all' transport movements from farms through collecting centres to distributing liFerilies.
. The reaction "of'the'Government to the report Was that the tirrie. Was not opportune fully to'implement' the 'proposals of the Lucas committee, and it was shelved. The R.H.A." agricultural committee decided that, if the report were. resurrected, it would press the Government to be allowed to submit
its iiieWS Oh the transport aspect.
The group decided that the rates for the conveyance of potatoes should be agreed locally, and agreements made should be sent to head office for circulation to other areas for information. A start has been made in this"direction and all areas haVe been ,asked to co-operate fully.
A similar arrangement in connection with the transport of grain has so far met with little response, only two areas
having submitted their Schedules.. , A ".itila-Cornmitt&.7 .was .aPpointbd ta liaise with the agrisultural associations wiN.regaikl"-to PoSsible.a grenient on rates, and support for licence aPPlicalions.
NEW LAMP TO REDUCE DAZZLE'
ANEW anti-dazzle pass lamp, now being manufactured by Notek Electric Co., Ltd., Bromley, Kent, is stated to throw a beam forward and to the near side without loss of intensity of light. . To reduce dazzle, the lamp is equipped with a parabolic reflector and a mask, in front of the'glas-s, which is formed with a -series Of Vertical :slats. .` Light rays from each lens-element are directed to a Second focal pthitiori, the maskintercepting scattered light raVs and screening the source -of ; light from oncoming traffic. The driver approaching a vehicle fitted with the Passmaster, as the new lamp is termed, can see the light from a distance, but the intensity fades as the distance lessens.
The new lamp is recommended as a single fitting, or for use in conjunction with 'a fog or driving lanip. Complete with switch and other fittings, it costs £5 5s., finished in black and chromium, or 1:5. 15s. with an all-chromium finish.
PETROL LORRY UNATTENDED
A DRIVER in the service of the .1-1 Doyle Packing and Transport Co., Ltd., North Shields, was fined El at Croydon, last week, for leaving his petrol lorry unattended. The company was. fined .€10 for not providing the driver with a copy of the PetrOleurn Spirit (Conveyance) Regulations, 1939. The _driver, who was away from his vehicle for 14 minutes, . said he had never heard of the Regulations.