In a Line or Two
8th April 1949
Page 9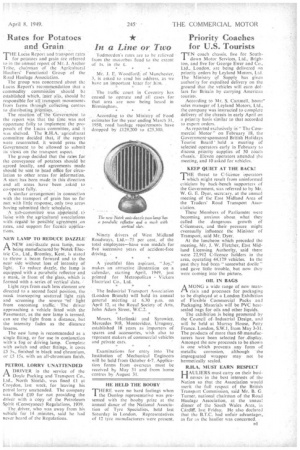 Page 9, 8th April 1949 —
In a Line or Two
Close
Keywords :
Todmordeils rates are to be relieved from the motorbus fund to the extent of is. in the E.
Mn. J. E. Woodfor of Manchester, 3, is asked to send his address, as we have an important letter for _him.
The traffic court in Coventry has ceased to operate and all cases for that area are now being heard in Birmingham.
According to the Ministry of Food estimates "for the year ending March 31, 1950, road haulage reqdrements have dropped by 1:129,200 to £25,300.
Ninety drivers of West Midland Roadways, Ltd.---75 per cent, of the total employees—have won medals for -five: Suecessive. years of accident-free driving.
A youthful film aspirant, " Joy," makes art attractive illustration on a calendar, starting April, 1949, just Printed for Metropolitan Vickers' -Electrical Co., Ltd.
. The Industrial Transport Association (London Branch) will hold its annual general meeting at 6.30 p.m. on • 'April 12, at the Royal` Society of Arts, John Adam Street, W.C.2.
Messrs. NI crlinski and Syrowicz, Mercedes 918, Montevideo, Uruguay, established 18 years as importers of spares and accessories, wish also to represent makers of commercial vehicles and private cars.
Examinations for entry into The Institution of Mechanical Engineers will be held from October 4-7, Application forms from Overseas must be received by May 31 and from home centres by. August 31.
HE HELD THE BOOBY
THERE were no hard feeling.;; when the Dunlop representative was presented with the booby prize at the annual dance of the National Association of Tyre Specialists, held .last Saturday in London. Representatives of 12 tyre manufacturers were present.