N.A.L.G.O. Open to .Transport Officers
8th April 1949
Page 8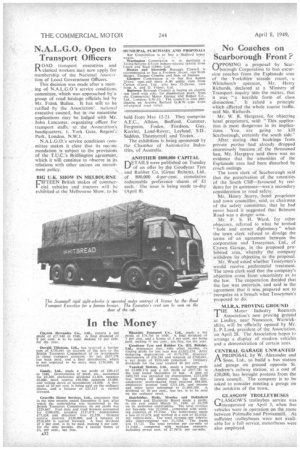 Page 8, 8th April 1949 —
N.A.L.G.O. Open to .Transport Officers
Close
Keywords :
. D OAD t ransport executives and clerical workers may now apply for membership of the National Assocro tion of Local Government Officers. This decision was made after a meet • ing of N.A.L.G.0 's service conditiens committee, which was approached by-a group of road haulage officials led by . Mr. Frank Bullen. It has still to be • ratified by the Association'. national executive council,, but in. the ineantitne applications May be with Mr. John •Lancaster, organizing officer for transport staffs,' at the Association's headquarters; L . York Gate. Regent't.
Park, London, N.W.1. N.A.L.G.O.'s service conditions corn-. mittee makes it clear that its rec;:mmendation is subject to. the provisions of the T.U.C.'s Bridlington agreement,. which it will contintie to observe in its relations with other unions on recruit
ment policy. .
BIG U.K. SHOW IN MELBOURNE
FIFTEEN British Makes of cOmniercial vehicles and tractors will be exhibited at the Melbourne Show, to be
held from May 12-21. They comprise A.E.C., Albion, Bedford, Commer, Ferguson, Foden, Fordson, Guy, Karrier, Land-Rover, Leyland, S.D., Seddon, Thbrnycroft and Trojan.
The exhibition is being sponsored, by the Chamber of Automotive Indus
tries, of Australia. .
ANOTHER 1 0,000 CAPITAL
DETAILS were published on Tuesday of an offer by the Goodyear Tyre and Rubber Co. (Great Britain), Ltd., of 800,000 4-per-cent. cumulative redeemable preference shares of £1 each. The issue is being made to-day (April 8).