No Extra Vehicle for B.T.C. Company B ECAUSE he held that,
8th April 1949
Page 7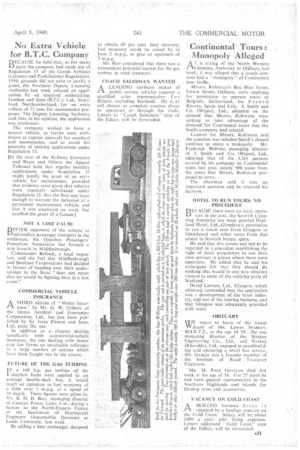 Page 7, 8th April 1949 —
No Extra Vehicle for B.T.C. Company B ECAUSE he held that,
Close
as for many years the company had made use of Regulation 15 of the Goods Vehicles (Licences and Prohibitions) Regulations, 1936, grounds did not exist to justify a grant, the Northern Deputy Licensing Authority, last week refused an application by an acquired undertaking, Gordon and Sons (B.T.C.), Ltd., Stakeford, Northumberland, for an extra vehicle of 71 tons for maintenance purposes. The Deputy Licensing Authority said that, in his opinion, the application
was prematnre. • The company wished to have a reserve vehicle, as lorries were withdrawn at regular intervals for overhaul and maintenance, and to avoid the necessity of making applications under Regulation 15.
[In the case of the Railway Executive and Brace and Others, the Appeal Tribunal held that regular monthly applications under Regulation 15 might justify the grant of an extra vehicle for maintenance, provided that evidence were given that vehicles were regularly substituted under Regulation 15. that the fleet was large enough to warrant the inclusion of a permanent maintenance vehicle, and that it was employed on work that justified the grant of a-licence.)
. NOT A LOST CAUSE
BITTER opponent of the scheme to nationalize passenger transport in the north-,east,' the Omnibus Passengers' Protection Association has formed a new branch in Middlesbrough:
Commander Bullock, a local organizer, said the fact that Middlesbrough and Stockton Corporations had decided in favour of handing over their undertakings to the State" does not mean that we would be fighting here in a lost cause."
COMMERCIAL VEHICLE INSURANCE
ATHIRD edition of "Motor Insurance," by Mr. G. W. Gilbert, of the Ocean Accident and Guarantee Corporation, Ltd., has just been published by Sir Isaac Pitman and Sons, Ltd., pniee 20s. net.
In addition to a chapterdealing specifically with commercial-vzhiele insurance, the one dealing with" motor case law forms an invaluable reference to a large number of actions which have been fought Out in the courts.
FUTURE OF THE GAS TURBINE
F a 160 h.p. gas turbine of the 1 simplest form were applied (o an average double-deck bus, it would reach an optimum in fuel econonly, a little over 5 m.p.g. at a speed tif 311 m.p.h. These figures were giVen by Mr. R. H. H. Barr, managing director of Centrax Power Units, Ltd., during/a lecture to the North-Eastern Centre of the Institution of Mechartieal Engineers (Automobile Division) at Leeds University, last week. ..
By adding a heat exchanger, designed to obtain 60 per cent, hear recovery, fuel economy could be raised by at least 2 m.p.g., to give an optimum of 7 m.p.g. Mr. Barr considered that there was a tremendous potential market for the gas turbine in road transport.
COACH SALESMAN WANTED
ALEADING northern maker of public service vehicles requires a
qualified sales representative f o r Britain, excluding Scotland. He is to sell chassis or complete coaches direct to operators or through the trade. Letters to Coach Salesman," care of the Editor, will be forwarded.