'Continental Tours : Monopoly Alleged A T a sitting of the North
8th April 1949
Page 7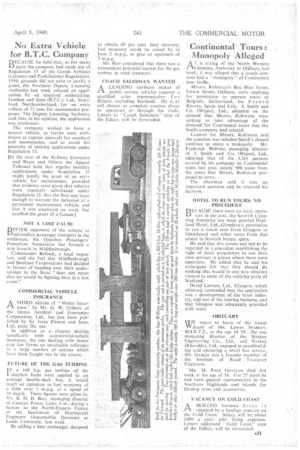 Page 7, 8th April 1949 —
'Continental Tours : Monopoly Alleged A T a sitting of the North
Close
Western , Licensing 'Authority at Oldham, last week, it was alleged that a coach concerti had a " monopoly " of Continental tour traffic.
Messrs. Robinson's Boy. Blue Tours, Union Street,Oldham, were. applying for permission tooperate tours to Belgium, Switzerland, the French Riviera, Spain and Italy. J. Smith and Co. (Wigan), Ltd., objected 'on the around that Messrs., Robinson were seeking to take advantage of the demand for Continental tours that the Smith company had created.
Counsel for Messrs. Robinson said the question was whetherSmith's should continue to enjoy a monopoly. Mr. Frederick Webster, managing director of J. Smith and Co. (Wigan), Ltd., admitted that of the 1,361 persons carried by his coMpany on Continental tours last year, nearly 900 came from the areas that Messrs. Robinson proposed to serve.
The chairman said it was an important question and he reserved his decision.'
HOTEL TO RUN TOURS: NO PRECEDENT
BECAUSE there were no local operators in the area, the Scottish Licen. sing Authority last week granted Highland Hotel, Ltd., Glendaruel, permission to run a coach tour from Glasgow to Glendaruel and other tours from that centre to Scottish beauty spots.
He said that this action was not to be regarded as a precedent establishing the right of hotel proprietors to run their own services in places where there were operators. He added that he and his colleagues felt that they should do nothing that would in any, way obstruct visitors to some of the outlying parts of Scotland.
David Lawson, Ltd., Glasgow, which objected, contended that the application was a development of the hotel industry, and not of the touring business, and that Glasgow was adequately provided with tours.
OBITUARY xy/E. regret to learn of the recent Y V dcath 00 MR. LEWIS STARK EY, N.LI.R.T.E., at the age Of 59: He was . managing director of, the. Starkey -Engineering Co., Ltd., and ' Starkey (Rhondda), Ltd., engaged in eoachbuilding and operating a small bus service. Mr. Starkey was a founder member of the Institute of Road . Transport Engineers.
'Ma. M. PAGE GENTLES died last week at the age of 56. For 27 years he had been general representative in the Northern Highlands and islands for Dutilop tyres and accessories: VACANCY ON GOLD COAST
•
A SKILLED foreman fitter is 1.-1 required by a haulage concern on the Gold Coast. Salary will he ;about £600 a year, plus living • expenses. Letters addressed Gold Coast." care of the Editor, will be forwarded.