35,010 Bedfords Sold Last Year
8th April 1949
Page 5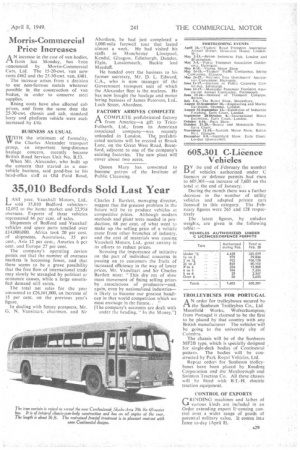 Page 5, 8th April 1949 —
35,010 Bedfords Sold Last Year
Close
I AST year, Vauxhall Motors, Ltd.,
sold 35,010 Bedford vehicles12,052 to the home market and 22,958 overseas. Exports of these vehicles represented 66 per cent, of sales.
Shipments of Bedford and Vauxhall vehicles and spare parts totalled over £14,000000. Africa took 20 per cent. of shipments, Australasia, 35 per Cent., Asia 12 per cent., America 6 per cent. and Europe 27 per cent.
The company's operating _review points out that the number of overseas markets is becoming fewer, and that there seems to be a grave possibility that the free flow of international trade may slowly he strangled by political or economic causes, while a large unsatisfied demand still exists.
The total net sales for the year amounted to £26,161,000, an increase of 15 per cent. on the previous year's figure.
In dealing with future prospects, Mr. G. N. Vansittart. chairman. and Sir Charles J. Bartlett, managing director, suggest that the greatest problem in the future 'will be to produce vehicles at competitive prices. Although modern methods and plant were needed in production, 68 per cent. of what went to make up the selling price of a vehicle came from other branches of industry, and the cost of materials was causing Vauxhall Motors, Ltd., great anxiety in its efforts to reduce prices.
Stressing the importance of initiative on the part of individual concerns in passing on. to customers the fruits of increased efficiency in the way of lower prices, Mr. Vansittart and Sir Charles Bartlett state: "This dry rot of slow mass movement of fixing selling prices by associations of producers—and, again, even by nationalized industries— is likely to become our greatest handicap in that world competition which we must envisage in the future.. ."
[The.company's accounts are dealt with under the heading, " In the Money.1