Special Bodies to Keep the Load Cool
8th April 1949
Page 19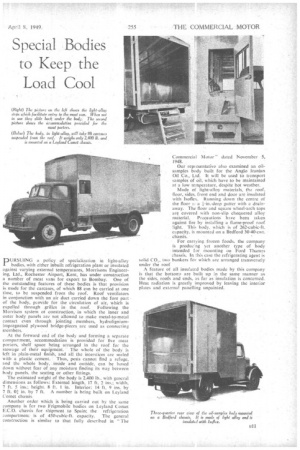 Page 19, 8th April 1949 —
Special Bodies to Keep the Load Cool
Close
PURSUING a policy of specialization in light-alloy bodies, with either inbuilt refrigeration plant or insulated against varying external temperatures, Morrisons Engineering, Ltd., Rochester Airport, Kent, has under construction a number of meat vans for export to Bombay. One of the outstanding features of these bodies is that provision is made for the carcases, of which 88 can be carried at one time, to be suspended from the roof. Roof ventilators in conjunction with an air duct carried down the fore part of the body, p;ovide for the circulation of air, which is expelled through grilles in the roof. Following the Morrison system of conStruction, in which the inner and outer body panels are not allOwed to make metal-to-metal contact even through jointing members, hydroligniumimpregnated plywood bridge-Pieces are used as connecting members.
Al the forward end of the body and forming a separate compartment, accommodation is provided for five meat porters, shelf space being arranged in the roof for the stowage of their equipment. The whole of the body is left in plain-metal finish, and all the •interstices are sealed with a plastic cement. Thus, pests cannot find a refuge, and the whole body, inside and outside, can be hosed down without fear of any moisture finding its way between body panels, the seating or other fittings.
The estimated weight of the body is 2,400 lb.. with general dimensions as follows: External length, 17 ft. 2 ins.: width, 7 ft. 5 ins.; height. 8 ft. 1 in. Interior: 14 ft. 9 ins. by 7 ft. in. by 7 ft. A number is being built on Leyland Cornet chassis, Another order which is being carried out by the same company is for two Frigmobile bodies on Leyland Comet E.C.O. chassis for shipment to Spain; the• refrigeration compartment is of 450-cubic-ft. capacity. The general construction is similar to that fully described in " The Commercial Motor" dated November 5, 1948.
Our representative also examined an oilsamples body built for the Anglo Iranian Oil Co., Ltd. it will be used to transport samples of oil., which have to be maintained at a low temperature, desPite hot weather.
Made of light-alloy materials, the roof, floor, sides, front end and door are insulated with lsoflex. Running down the centre of the floor F a -'4'-in.-deep gutter with a drainaway. The floor and square Wheel-arch tops arc covered with non-slip chequered alloy material. Precautions have been taken against fire by inStalling .a flame-proof roof light. This body, which is of 262-cubic-ft. capacity, is mounted on a Bedford 30-40-cwt. chassis.
For carrying frozen foods, the company is producing yet another type of body
intended for mounting on Ford Thames . chassis. In this case the refrigerating agent is solid CO,, two bunkers for which are arranged transversely under the roof A feature of all insulated bodies made by this company is that the bottoms are built up in the same manner as the sides, roofs and ends, as far as insulation is concerned. Heat radiation is greatly improved by leaving the interior plates and external panelling. unpainted.