Fried Fish Taken to Farm Workers
8th April 1949
Page 18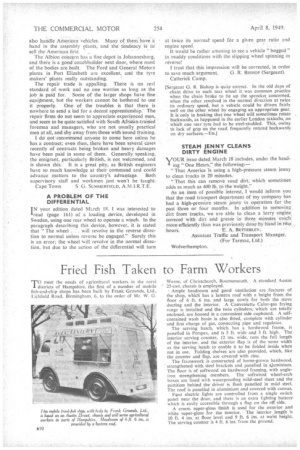 Page 18, 8th April 1949 —
Fried Fish Taken to Farm Workers
Close
Keywords :
Construction
,
Visual Arts
,
Architecture
,
Building
,
Building Engineering
,
Framing
,
Structural System
,
Woodworking
,
Softwood
,
Calor
,
Gloss
,
Hospitality / Recreation
T0 meet the needs of agricultural workers in the rural districts of Hampshire, the first of a number of mobile fish-and-chip shops has been built by Frank Grounds, Ltd., Lichfield Road, Birmingham, 6. to the order of Mr. W. G.
Warne, of Christchurch, Bournemouth. A standard Austin ' 25-cwt, chassis is employed.
Ample headroom and good ventilation are features of the shop, which has a lantern roof with a height from the floor of 6 ft. 6 ins, and large cowls for both the stove ducting and the interior. A Canveniette Calor-gas frying range is installed and the twin cylinders, which are totally enclosed, are housed in a convenient side cupboard. A selfcontained wash basin is also fitted, complete with cylinder and first charge of gas, connecting pipe and regulator.
The serving hatch, which has a hardwood frame, is panelled in Perspex, and is 5 ft. wide and 3 ft. high. The interior serving counter, 12 ins, wide, runs the full length of the interior, and the exterior flap is of the same width as the serving hatch to enable it to be folded inside when not in use. Folding shelves are also provided, which, like the counter and flap, are covered with zinc.
The framework is constructed of home-grown hardwood,
• strengthened with steel brackets and panelled in aJuminium. The floor is of softwood on hardwood framing, with angleiron strengthening members. The softwood wheel-arch boxes are lined with waterproofing mild-steel sheet and the partition behind the driver is flush panelled in mild steel. The roof is panelled in aluminium and covered with canvas. Fur electric lights are controlled from a single switch panel near the door, and there is an extra lighting battery, which is easily accessible through a flap on the off side.
A cream super-gloss finish is used for the exterior and white super-gloss for the interior. The interior length is 10 ft. 4 ins, at floor level and 9 ft. 6 ins, at waist height. The serving counter is 4 ft. .6 ins, from the ground.