Is This a "Sinister Plot" ?
8th April 1949
Page 17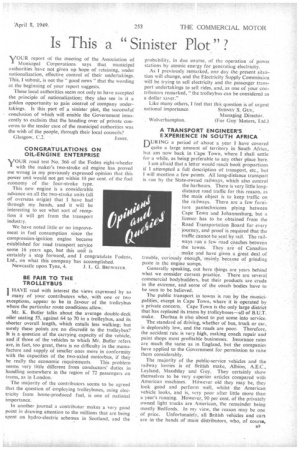 Page 18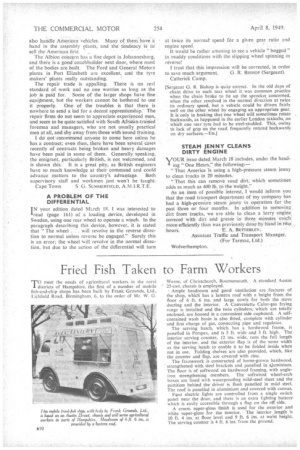 Page 17, 8th April 1949 —
Is This a "Sinister Plot" ?
Close
\TOUR report a the meeting of the Association of A Municipal Corporations says that municipal authorities have not given up hope of retaining, under nationalization, effective control of their undertakings. This, I submit, is not the "good news" that the wording at the beginning of your report suggests.
These local authorities seem not only to have accepted the principle of nationalization; they also see in it a golden opportunity to gain control of company undertakings. Is this part of a sinister plot, the successful' conclusion of which will enable the Government innocently to exclaim that the handing over of private concerns to the tender care of the municipal authorities was the wish of the people, through their local councils?
Glasgow, C.2. • JAMIE.
CONGRATULATIONS ON OIL-ENGINE ENTERPRISE
\1 VOUR road test No. 366 of the Foden eight-wheeler OUR
the maker's two-stroke oil engine has proved me wrong in my previously expressed opinion that this power unit would not get within 10 per cent. of the fuel economy of the four-stroke type.
This new engine is a considerable advance on all the two-stroke units (all of overseas origin) that I have hadthrough my hands, and it will be interesting to see what sort of reception it will get from the transport industry.
We have noted little or no improvement in fuel consumption since the compression-ignition engine became established for road transport service some 16 years ago, but this unit is certainly a step forward, and I congratulate Fodens, Ltd., on what this company has accomplished.
Newcastle upon Tyne, 4. J. L. G. BREWSTER.
erw o
BE FAIR TO THE TROLLEYBUS ' I HAVE read with interest the views expressed by so many of your contributors who, with one or two exceptions, appear to be in favour of the trolleybus where the particular route conditions allow.
Mr. K. Butler talks about the average double-deck oiler seating 55, against 64 to 70 in a trolleybus, and its shorter overall length, which entails less walking; but surely these points are no discredit to the trolleybus? It is a question of the carrying capacity of the vehicle, and if those of the vehicles to which Mr. Butler refers are, in fact, too great, there is no difficulty in the manufacture and supply of smaller ones more in conformity with the capacities of the two-axled motorbus, if they be really the economic requirements. This problem seems very little different from conductors' duties in handling somewhere in the region of 72 passengers on trams, as in London.
The majority of the contributors seems to be agreed that the question of employing trolleybuses, using electricity from home-produced fuel, is one of national importance.
In another journal a contributor makes a very good point in drawing attention to the millions that are being spent on hydro-electric schemes in Scotland, and the
probability, in due coarse, of the operation of power stations by atomic energy for generating electricity.
As I previously remarked, one day the present situation will change, and the Electricity Supply Commission will be trying to sell electricity and the passenger transport undertakings to sell rides, and, as one of your contributors remarked, "the trolleybus can be considered as a dollar saver."
Like many others, I feel that this, question is of urgent
national importance. SYDNEY S. GUY,
Managing Director.
Wolverhampton. (For Guy Motors, Ltd.) A TRANSPORT ENGINEER'S EXPERIENCE IN SOUTH AFRICA
DURING a period of -about a year 1 have covered quite a large amount of territory in South Africa, but am now back in Cape Town, where I shall settle for a while, as being preferable to any' other place here.
am afraid that a letter would reach book proportions if I attempted a full description of transport, etc., but I will mention a few points. All long-distance transport is run by the State-owned railways, which also control the harbours. There is very little longdistance road traffic for this reason, as the main object is to, keep traffic on the railways. There are a few furniture pantechnicons plying between Cape Town and Johannesburg, but a licence has to be obtained from the Road Transportation Board for every journey, and proof is required that the traffic cannot be sent by rail.. The railways run a few road Coaches between the towns. They. are of Canadian .,make and have given. a great deal of trouble, curiously enough," mainly because of grinding paste in the engine sumps. • , .
Generally speaking, out here things are years behind what we consider current practice. There are several commercial bodybuilders, but their products are crude in the extreme, and s6me of the coach bodies have to be seen to be believed. • • The public transport in towns is run by the municipalities, except in Cape Town, where it is operated by a private concern. Cape Town is the only large district that has replaced its trams by trolleybuses—all of B.U.T. make. Durban is also about to put some into service.
The standard of driving, whether of bus, truck or car, is deplorably low, and the roads are poor. Therefore, the accident rate is very high, making coach repair and paint shops most profitable businesses. Insurance rates are much the same as in England, but the companies have applied to the Government for permission to raise them considerably.
The majority of .the public-service vehicles and the railway lorries is of British make, Albion, A.E.C., Leyland, Maudslay and Guy. They certainly show themselves to be very superior articles compared with American machines. HOwever old they may be, they look good and perform well, whilst the American vehicle looks, and is, very poor after little more than a year's 'running. However, 90 per cent. of the privately owned light trucks are American, the remainder being mostly Bedfords. In my view, the reason may be one of price. Unfortunately, all British vehicles and cars are in -the hands of main distributors, who, of course,
4
also handle American vehicles. Many of them have a hand in the assembly plants, and the tendency is to sell the American lifst.
The Albion concern has a fine depot in Johannesburg, and there is a good coachbuilder next door, where most of the bodies are built. The Ford and General Motots plants in Port Elizabeth are excellent, and the tyre makers' plants really outstanding.
The repair trade is appalling. There is no real standard of work and no one worries as long as the job is paid for. Some of the larger shops have fine equipment, but the workers cannot be bothered to use it properly. One of the troubles is that there is nowhere to send a lad for a decent apprenticeship.The repair firms do not seem to appreciate experienced men, and seem to be quite satisfied with South African-trained foremen and managers, who are not usually practical men at all, and shy away from those with Sound tl-aining. I do' not-recommend anyone to come here unless he has a contract; even then, there have been several cases recently of contracts being broken and heavy damages have been paid in some of them. Generally speaking, the emigrant, particularly British, is not welcomed, and is shown this. It is a great pity, as British engineers have so much knowledge at their command and could advance matters to the country's advantage. Both supervisory staff and workmen just won't be taught.
Cape Town. S G. SUMMERF1ELD, A.M.1.R.T.E.
A PROBLEM OF THE DIFFERENTIAL IN your edition dated March 18, I was interested to "read (page 161) of a loading device, developed in Sweden, using one rear wheel to operate a winch. in the paragraph describing this device, however, it is stated that "The wheel . . will revolve in the reverse direction to normal unless reverse be engaged." Surely this is an error; the wheel *will revolve in the normal direction, but due to the action of the differential will turn
at twice its normal' speed fOr a given gear ratio and engine speed_
It would be rather amusing to see a vehicle " bogged " in muddy conditions with the slipping wheel spinning in reverse!
I trust that this impression will be corrected, in order
to save much argument. G. R. BISHOP (Sergeant). Catterick Camp.
[Sergeant G. R Bishop is quite correct. In the old days of chain drive to each rear wheel it was common practice when the chain broke to tie up the sprocket concerned, when the other revolved in the normal direction at twice its ordinary speed, but a vehicle could be driven fairly well on the other wheel by engaging an appropriate gear. It is only in braking that one wheel will sometimes rotate backwards, as happened in the earlier London taxicabs, on which one rear tyre had to be steel-studded. This, owing to lack of grip on the road, frequently rotated backwardl on dry surfaces.—FD.]
STEAM JENNY CLEANS DIRTY ENGINE
VOUR issue dated March 18 includes, under the head' leg "One Hears," the following:—
" That America Is using a high-pressure steam jenny to clean trucks in 20 minutes.
"That this can remove road dirt, which sometimes adds as much as 400 lb. to the weight,"
As an item of possible interest, I would inform you that the road transport department of my company has had a high-pressure steam jenny in operation -for the past three or four months. In addition to removing dirt from trucks, we are able to clean a lorry engine covered with dirt and grease in three minutes rrinch more efficiently than was previously done by hand in two hours. E A. BErrERLEY, Assistant Traffic and Transport Manager. (For Tarmac, Ltd.) Wolverhampton.