Mobile Laboratory Tests RT. Power Cables
8th April 1949
Page 15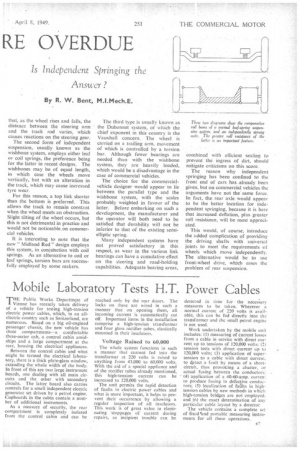 Page 15, 8th April 1949 —
Mobile Laboratory Tests RT. Power Cables
Close
THE Public Works Department of Vienne has recently taken delivery of a vehicle for testing high-tension electric power cables, which, in an allelectric country such as Switzerland, are numerous. Based on a big oil-engined passenger chassis, the new vehicle has three compartments—a comfortable three-seater cab, a control cabin amidships and a large compartment at the rear, housing the electrical appliances.
Between the control cabin and what might be termed the electrical laboratory, there is a thick plate-glass window, extending the whole width of the body. In front of this are two large instrument boards, one dealing with all main circuits and the other with secondary circuits. The latter board also carries controls for a small independent electric generator set driven by a petrol. engine. Cupboards in the cabin contain a number of additional instruments.
As a measure of security, the rear compartment is completely isolated from the control cabin and can be reached only by the rear doors. The locks on these are wired in such a manner that on opening them, all incoming current is automatically cut Off. Important items in the installation comprise a high-tension transformer and four glass rectifier tubes, elastically mounted in their insulators.
Voltage Raised to 60,000
The whole system functions in such a manner that current fed into the transformer at 220 volts is raised to anything from 43,000 to 60,000 volts. With the aid of a special appliance and of the rectifier tubes already mentioned, this high-tension current can be increased to 120,000 volts.
The unit permits the rapid detection of faults in electric power cables and what is more important, it helps to prevent their occurrence by allowing a regular inspection of all insulators. This work is of great value in eleminating stoppages of current during repairs, as incipient trouble can be detected in time for the neces.sary measures to be taken. Wherever a normal current of 220 volts is available, this can be fed directly into the transformer and the small petrol engine is not used.
Work undertaken by the mobile unit includes: (1) measuring of current losses from a cable in service with direct current up to tensions of 120,000 volts; (21 tension tests with direct current up to 120,000 volts; (3) application of supertension to a cable with direct current, to detect a fault by means of a shortcircuit, thus provoking a chatter, or actual fusing between the conductors; (4) application of a 40-60-amp. current to produce fusing in defective conductors; (5) localization of fats in high. tension cables by new methods in which high-tension bridges are not employed. and (6) the exact determination of any particular cable layout by a detector, The vehicle contains a complete set of fixed 'and portable measuring instruments for all these operations.