Mobile Kitchen Can Serve 4,000 Meals
8th April 1949
Page 11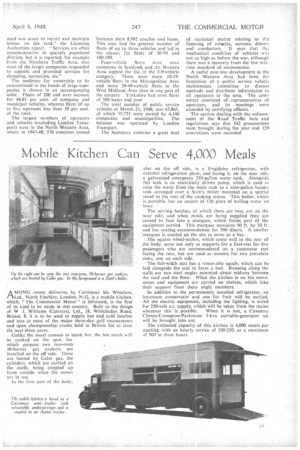 Page 11, 8th April 1949 —
Mobile Kitchen Can Serve 4,000 Meals
Close
AMONOrecent deliveries by Carrimore Six Wheelers, Ltd., North Finchley, London, N.12, is a mobile kitchen, Which, " The COMmercial Motor" is informed, is the first of its kind to be made in this.country. Built to the design of W 3. Williams (Caterers), Ltd., 18, Whiteladies Road, Bristol, 8, it is to be used to supply hot and cold lunches and teas at most of the major three-day golf tournaments and open championship events held in Britain for at least the next three years.
Unlike the usual canteen or snack bar, the hot meals will be cooked on the spot, for which purpose two two-oven 10-burner gas cookers are installed on the off side. These are heated by Calor gas, the cylinders, which are carried on the outfit, being coupled up from outside when the stoves are in use.
In the fore part of the body, also on the off side, is a Frigidaire refrigerator, with external refrigeration plant, and facing it, on the near side, a galvanized emergency 250-gallon water tank. Alongside this tank is an electrically driven pump, which is used to raise the water from the main tank to a nine-gallon header tank arranged over a Stott's boiler mounted on a special stand to the rear of the cooking stoves. This boiler, which is portable, has an output of 120 pints of boiling water art hour.
• The serving hatches, of which there are two, are on the near side. and when meals are being supplied they are caused to face into a marquee, which forms part of the equipment carried. This marquee measures 90 ft. by 30 ft. and has seating accommodation for 300 diners. A smaller marquee is erected on the site to serve as a bar. • The square wheel-arches, which come well to the rear of the body, serve not only as supports for a foot-rest for five passengerswho are accommodated on a transverse seat facing the rear, but are used as mounts for two porcelain sinks, one on each side. .
The full-width seat has a removable squab, which can be laid alongside the seat to form a bed. Running along the walls are two steel angles mounted about midway between the roof and the floor. When the kitchen is on the move, stores and equipment are carried on shelves, which' take their support from these angle members. •• In addition to the'permanently installed refrigerator, an icecrearo conservator and one for fruit will be carried. All the electric equipment, including the lighting, is wired for 230-volt a.c. supply, which will be taken from the mains wherever this is possible. When it iS fiat, a Coventry Climax-Crompton-Parkinson 3-kva portable-generator set will be brought into use.
The estimated capacity of this kitchen is 4,000 meals per meeting. with an hourly service of 200-250, or a maximum of 900 in three hours.