Passing Comments
7th October 1955
Page 36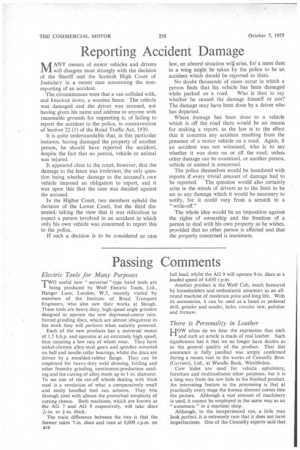 Page 37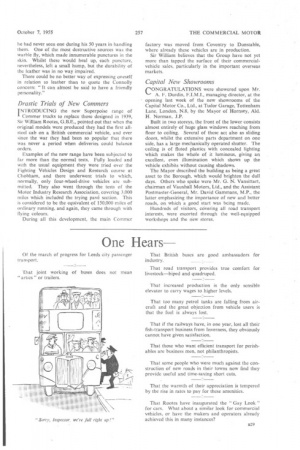 Page 36, 7th October 1955 —
Passing Comments
Close
Keywords :
Electric Tools for Many Purposes "f Two useful new "universal "-type hand tools are WO produced by Wolf Electric Tools, Ltd., Hanger Lane, London, W.5, recently visited by members of the Institute of Road Transport Engineers, who also saw their works at Slough. These tools are heavy-duty, high-speed angle grinders designed to operate the new depressed-centre reinforced grinding discs, which are almost ubiquitous in the work they will perform when suitably powered.
Each of the new products has a universal motor of 1.5 b.h.p. and operates at an extremely high speed, thus ensuring a low rate of wheel wear. They have nickel-chrome alloy-steel gears and spindles mounted on ball and needle-roller bearings, whilst the discs are driven by a moulded-rubber flange. They can be employed for heavy-duty weld dressing, fettling and other foundry grinding, continuous-production sanding and the cutting of alloy steels up to 1-in. diameter. To see one of the cut-off wheels dealing with thick steel is a revelation of what a comparatively small and easily handled tool can achieve. They bite through steel with almost the proverbial simplicity of cutting cheese. Both machines, which are known as • the AG 7 and AG 9 respectively, will take discs A-in. or fin. thick.
The main difference between the two is that the former takes 7-in, discs and runs at 6,000 r.p.m. on 1128 full load, whilst the AG 9 will operate 9-in, discs at a loaded speed of 4,650 r.p.m.
Another product is the Wolf Cub, much favoured by householders and enthusiastic amateurs as an allround machine of moderate price and long life. With its accessories, it can be used as a hand or pedestal drill, grinder and sander, lathe, circular saw, polisher and fretsaw.
There is Personality in Leather HOW often do we hear the expression that such and such an article is made of real leather. Such significance has it that we no longer have doubts as to the general quality of the product. That this assurance is fully justified was amply confirmed during a recent visit to the works of Connolly Bros. (Carriers), Ltd., at Wandle Bank, Wimbledon.
Cow hides are used for vehicle upholstery, furniture and multitudinous other purposes, but it is a long way from the raw hide to the finished product. An interesting feature in the processing is that at practically every stage the human element comes into the picture. Although a vast amount of machinery is used, it cannot be employed in the same way as an " automatic " in a machine shop.
Although, to the inexperienced eye, a hide may look perfect, it is extremely rare that it does not have Imperfections. One of the Connolly experts said that
he had never seen one during his 50 years in handling them. One of the most destructive sources was the warble fly, which made innumerable punctures in the skin. Whilst these would heal up, each puncture, nevertheless, left a small hump, but the durability of the leather was in no way impaired.
There could be no better way of expressing oneself in relation to leather than to quote the Connolly concern: "It can almost be said to have a friendly personality."
Drastic Trials of New Comrners
INTRODUCINGr the new Superpoise range of I Cornmer trucks to replace those designed in 1939, Sir William Rootes, G.B.E., pointed out that when the original models were produced they had the first allsteel cab on a British commercial vehicle, and ever since the war they had been so popular that there was never a period when deliveries could balance orders.
Examples of the new range have been subjected to far more than the normal tests. Fully loaded and with the usual equipment they were tried over the Fighting Vehicles Design and Research course at Chohham, and there underwent trials to which, normally, only four-wheel-drive vehicles are submitted. They also went through the tests of the Motor Industry Research Association, covering 3.000 miles which included the trying pave section. This is considered to be the equivalent of 150,000 miles of ordinary running, and again, they came through with flying colours. , During all this development, the main Comma factory was moved from Coventry to Dunstable, where already these vehicles are in production.
Sir William believes that the Group have not yet more than tapped the surface of their commercialvehicle sales, particularly in the important overseas markets.
Capital New Showrooms
CONGRATULATIONS were showered upon Mr. A. F. Durdin, F.I.M.I., managing director, at the opening last week of the new showrooms of the Capital Motor Co., Ltd., at Tudor Garage, Tottenham Lane, London, N.8, by the Mayor of Hornsey, Ald. H. Norman, J.P.
Built in two storeys, the front of the lower consists almost entirely of huge glass windows reaching from floor to ceiling. Several of these act also as sliding doors, whilst the extensive parts department on one side, has a large mechanically operated shutter. The ceiling is of fluted plastics with concealed lighting which makes the whole of it luminous, giving an excellent, even illumination which shows up the vehicle exhibits without causing shadows.
The Mayor described the building as being a great asset to the Borough, which would brighten the dull days. Others who spoke were Mr. G. N. Vansittart, chairman of Vauxhall Motors, Ltd., and the Assistant Postmaster-General, Mr. David Gammans, M.P., the latter emphasizing the importance of new and better roads, on which a good start was being made.
Hundreds of visitors, cdvering all road transport interests, were escorted through the well-equipped workshops and the new stores.